Question 1

: When should I book so my dream cabin is still available?
Each ship only has a certain number of cabins and a capacity that isn't expandable. Therefore, we recommend planning your bike & boat trip early. For this reason, our bike & boat catalogue is released earlier than the other Eurobike catalogues – already in August. We will tell you personally which cabins are still available for your desired bike & boat tour. Just contact us!
Question 2

: How is a day scheduled on the ship?
Before each day's cycling stage, there will be a meeting with all passengers on board, during which the tour of the day will be presented. Then the bike rides begin. Depending on how long the day's stage is, guests will reach the destination during the afternoon, where the ship will be waiting. For example the last hours of sunshine of the day can be enjoyed on the sundeck. The day will end in the restaurant or bar.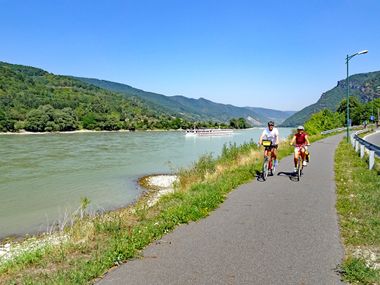 Question 3

: What about the food on board?
In the morning a rich buffet breakfast is served on most of the ships and guests have the opportunity to put together a packed lunch for the cycle trip. When guests return to the ship in the afternoon, coffee and cakes are often served. In the evening, passengers enjoy a 3-course meal in the ships restaurant and can spend time in the cosy bar.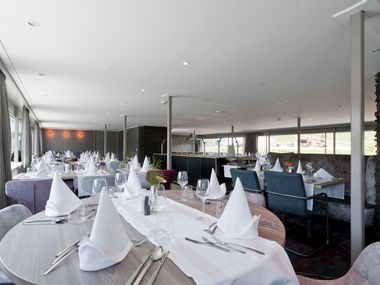 Question 4

: How are the ships equipped?
Depending on the size of the ship, the restaurant and bar areas are divided differently. All ships have a sundeck where guests can enjoy the river landscapes in comfort. Bikes are parked here. All cabins have a shower and toilet.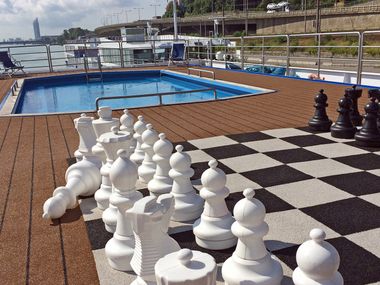 Question 5

: Which tour is right for me?
Bike & boat tours also offer tours with travel guidance and individual tours.
Depending on which tour you choose, about 15 to 60 kilometres are covered by bike per day. With a few exceptions, the trails are easy to handle and on level terrain – because enjoyment is important on bike & boat tours. Find the most popular bike & boat tours here!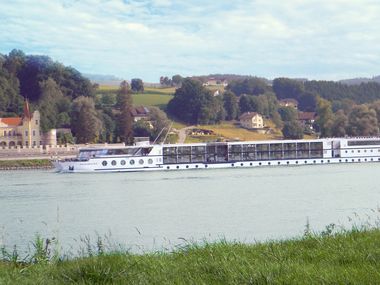 Have we awakened your holiday spirit? Then head to sea! The Eurobike team is looking forward to welcoming you onto one of our top organised bike & boat tours soon!