Combination

of active and relaxing vacation
Thanks to the categorisation of our cycle holidays according to the tour characteristics easy, medium, challenging and athletic, you can always see at first glance what level of difficulty is required. Are you talking about a sporty tour, but do not feel up to the level of difficulty yet? No problem, then you can easily manage them with the support of an e-bike. The unisex bikes with coaster brake have a battery range of 120-180 kilometres, three support modes and are very easy to use. But be careful, our electric bikes are not 'motor scooters', you have to pedal for active motor support. Then you can decide individually how much support you need. So a perfect combination of active and relaxing holiday.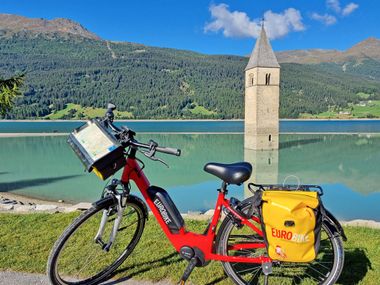 Reasons for an
e-bike tour
Headwind is yesterday's news!
If you are on the road with an e-bike, you no longer have to deal with whipping headwinds, because the motor will take care of that from now on.
Riding an e-bike is fun!
The fun factor is also not neglected on our e-bike tours across Europe. Thanks to the motorised support, you will feel a lightness in the movement and may be more interested in longer and more demanding routes.
Steep climbs done in no time!
Even short ascents or mountain rides are no longer a problem thanks to e-bikes, simply switch on more support and you are on top of the hill.
Focus is directed on beauty!
Thanks to the motor you can perceive and enjoy your entire surroundings and – above all – the beautiful scenery more intensively with all your senses.
Eurobike's Unisex-E-Bikes are
top of the range

:
Dimensions: 28-inch bicycle with a total weight of approx. 23 kg
8-gear hub
Electric motor: Due to the position of the mid-engine at the bottom bracket the centre of gravitiy is lower and the weight is well-distributed.
Battery: The rechargeable battery can be easily unclipped from the frame and has a range of 120 to 180 kilometres.
Modern electronics: The bike-computer is equipped with a premium LED display to tell you how much charge you have remaining. You have a choice of three cruising speeds at the touch of a button.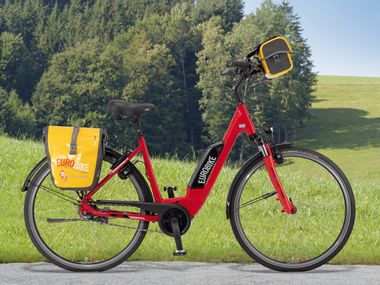 Land of mountains, land situated on the river, land of fields, and of cathedrals! The first stanza of the national anthem already makes it clear how diverse and beautiful our homeland Austria is. And what could be nicer than exploring all of this by bike? In general, all of our cycle holidays are available as e-bike tours. However, we particularly recommend the tours with the level of difficulty 'ambitious' or 'sporty'. This includes, for instance, our bestseller tour, Ten Lakes Tour or the tours on the Tauern Cycle Path, the Danube Cycle Path, the Drau Cycle Path and the Adige Cycle Path from Innsbruck to Lake Garda.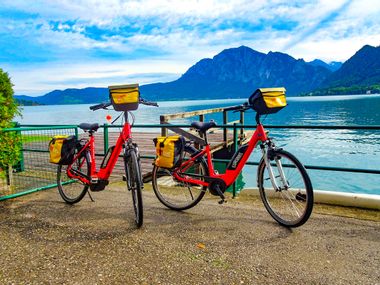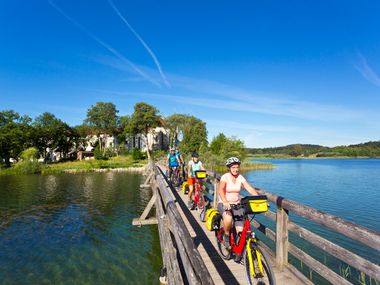 Benvenuti in bella Italia! The tourist magnet attracts countless enthusiastic cyclists to Southern Europe every year. However, if you want to get to know and enjoy Italy even more intensively and better, you should definitely use an e-bike. The classic e-bike tours through individual regions of Italy are the 'Tuscany roundtrip', 'Florence – Rome' and the 'Piedmont roundtrip'. Pizza, pasta, vino and a well-equipped e-bike await you on these cycle holidays!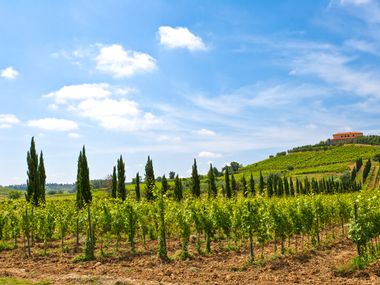 E-Bike Tours on
Majorca and Madeira
Summer, sun, sunshine on almost 365 days a year! Pack you bike gear, the e-bike is already waiting for you on the Mediterranean islands of Majorca and Madeira. The 'Majorca Loop Tour' and 'Madeira circular tour' are quite challenging – long daily stages, several inclines and summery temperatures. To ensure that your holiday is not a torture, choose an e-bike as your rental bike. That way you can relax and immerse yourself in the Spanish and Portugese culture.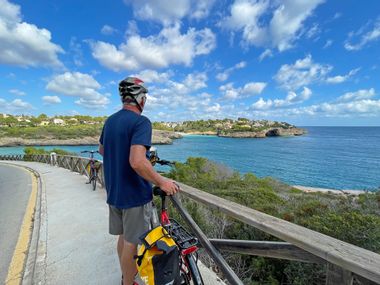 What can you expect from all these e-bike tours? A lot of relaxation, intersting Day Finishes, beautiful natural scenery, culinary delights and lots of fun!
That's why
cycling holidays

with Eurobike


Advantages

that convince