In the south of Germany, the enchanting cycle tour "Allgäu Lakes Based in One Hotel" awaits you with fairytale castles and glittering lakes. Cycle around the Foggensee, Hopfensee and Weißensee lakes and take a refreshing dip. Wonderful! An absolute highlight is on the programme for the fourth day, the royal castles tour. Follow in the footsteps of the Bavarian fairytale king Ludwig and discover his castles Neuschwanstein and Hohenschwangau. Travel back with us to the time of kings, princesses and ladies-in-waiting. A wonderful tour with lots of nature, culture and culinary delights. Because Bavaria is also known for its delicious, hearty cuisine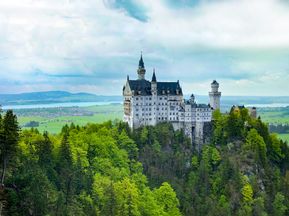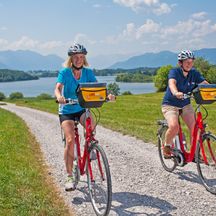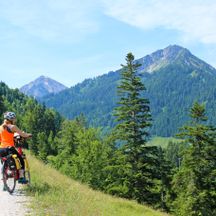 Schärding - Vienna

on the Danube Cycle Path
A true classic among cycle tours are the tours along the Danube Cycle Path. On our version you cycle from baroque Schärding to the capital Vienna. On this unique trip you will experience Austria with all your senses. Along the blue Danube stretches an idyllic landscape and dreamlike natural scenery as far as the eye can see. Spoil your palate with a typical Viennese Schnitzel and a glass of Grüner Veltliner in the Wachau. Delicious! And during the ride you can enjoy the sound of the river. One thing is certain, on this cycle tour from Schärding to Vienna you will never cease to be amazed.
Get to know Bella Italia from a different perspective on our cycle tour from Florence to Rome. Italy does not only mean pizza, pasta, mass tourism and beach holidays, but also scores with varied landscapes and impressive cultural treasures. Cycle along lonely cycle paths through the valleys of the Apennines to the eternal city of Rome. You will pass small medieval villages, churches steeped in history, magnificent palaces and the birthplace of St. Francis. Enjoy culinary Italian delicacies and a wonderful natural backdrop. Finally, treat yourself to a delicious gelato in the capital city of Rome.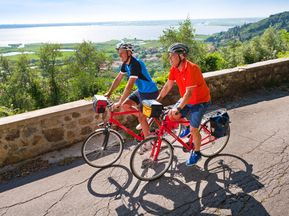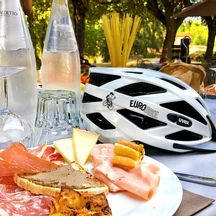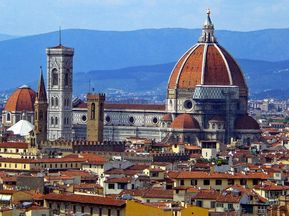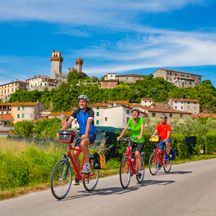 Picturesque vineyards, Mediterranean landscapes, crystal-clear mountain lakes and delicious Italian delicacies - we are of course talking about beautiful South Tyrol. Thanks to the perfectly developed cycle paths through Italy's northernmost province, numerous cycle tourists are attracted to South Tyrol every year. Since the autonomous region borders Austria and was also an Austrian province a little over a hundred years ago, you will experience the ideal mix of Italian and Austrian flair on your tour. Let our travel video inspire you and book your next holiday in South Tyrol.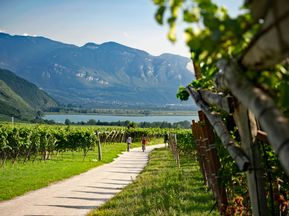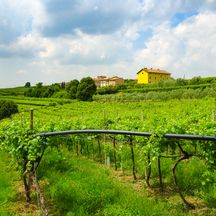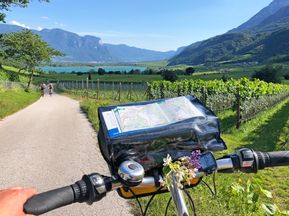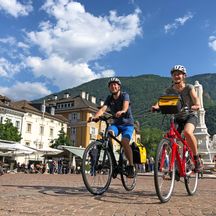 You cycle a total of 410 kilometres and 2400 metres of altitude on the entire Alpe Adria Cycle Path from the Mozart city of Salzburg to the Adriatic Sea in Grado. But don't worry, you don't have to cycle the entire route, you can choose between several variants. Do you want to stay in Austria? Then we recommend the cycle tour from Salzburg to Villach. However, if you prefer a cross-border tour, we advise you to cycle from Villach to Grado. Watch our travel video and then decide on your perfect cycling holiday in South Tyrol.
South Tyrol
for families

with Fravely
On their travel blog fravely.de, the travel family consisting of Flo, Ben, Melanie and Thomas from Berlin report on their travels throughout Europe. This time they were on the road with Eurobike and chose the cycling tour South Tyrol for families. You can experience the individual stages and experiences of the family on the tour from Merano to Lake Garda up close in the video.
More
travel inspiration

for you
That's why
cycling holidays

with Eurobike


Advantages

that convince