With every pedal forward, it gets a bit more Italian…
The apple blossom in spring, the hot summer on the mountain lakes, the grape harvest in the colourful autumn and perfectly groomed slopes in the freezing winter – South Tyrol has something to offer every season. And we cyclists definitely get our money's worth here! Cycle on perfectly constructed cycle paths through the mighty mountains to clear lakes and past picturesque vineyards in the Mediterranean south of the region. Taste the local fruity wines, the famous Schüttelbrot and indulge in the warm hospitality shown here.
In our video you can see impressions of our cycling tours in South Tyrol.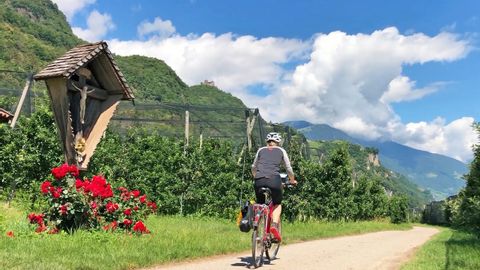 The
most popular cycle tours

in South Tyrol
Bolzano – Venice
The classic Eurobike original tour starts in Bolzano and takes you along the Adige to Lake Garda, on to the hometown of Romeo and Juliet, past Padua and ending in the Lagoon city – Venice!
Enjoy the perfect mix of culture and wild romantic scenery!
South Tyrol centre-based tour
If you want to explore the highlights of South Tyrol over a few days atop your bicycle, then the South Tyrol Centre-based Tour is the right choice for you! Discover South Tyrol's most beautiful cities and sights and enjoy comfort and elegance in the Bolzano Hotel Scala Stiegl!
Bressanone Centre-based Tour
The cathedral city of Bressanone is the ideal starting point for a beautiful centre-based tour in the heart of South Tyrol. Discover the charming villages of the region, the Valle Isarco and Val Pusteria. Take a break on the way, stretch your legs and enjoy the tranquillity that radiates from this landscape, and don't forget to stop off for wine and a delicious snack in a tavern.
Merano – Lake Garda
Whether with the whole family or with friends, the cycle tour Merano – Lake Garda is also suitable for children and Sunday cyclists!
The mostly flat cycle route takes you past the most beautiful parts of South Tyrol to the beautiful Lake Garda, where you can spend one or two nights longer!
Munich - Merano - Lake Garda
If you would like to extend the tour Merano - Lake Garda by one day and two countries, we recommend the cycling tour Munich - Merano - Lake Garda. From Germany via Austria to Italy. A very diverse and beautiful crossing of the Alps.
Bolzano - Venice with charm
Want a bit of luxury? Then a cycle tour with charm is just the thing for you! Select 4**** hotels accommodate you during this tour and give your holiday that certain something!
This sporty cycling tour takes you to the unique Dolomites, known far beyond their borders. Named a UNESCO World Heritage Site thanks to their "unique monumental beauty", the Dolomites are your daily companion on this circumnavigation. Discover the Three Peaks, Cortina d'Ampezzo, Bolzano, Trento and many other highlights from a cycling perspective.
Of course we can't forget the famous Adige cycle path! This path has been popular for a long time and is suitable for young and old! The original Adige cycle path starts in the Austrian town of Landeck and ends in Verona. The route is largely identical to the Via Claudia Augusts, a historic Roman road.

The Eurobike Adige Cycle Tour starts either in Innsbruck or on Reschensee. From there it goes through Vinschgau to Merano. From here, the Adige cycle path runs along the river, past Bolzano and Trento to Verona.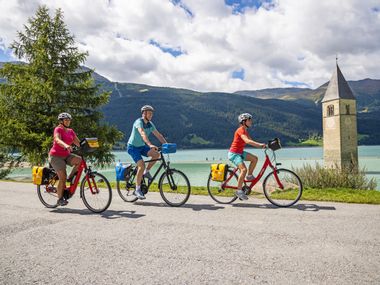 Innsbruck – Bolzano
Our Adige cycle tour starts in the capital of Tyrol and takes you about 300 kilometres by bike to Imst, Burgeis/Mals, Merano, the Passeiertal Valley and Auer to Bolzano. A classic with which you cannot go wrong!
Innsbruck – Verona
Cycle from the Golden Roof to the house of Julia Capulet in just eight days. Enjoy the wonderful fresh air of the Tyrolean mountains, admire the beauty of the South Tyrolean landscape and feast on Italain specialities!
Lake Reschen - Verona
From the church tower in Lake Reschen we travel to the spa town of Merano - where the beloved Austrian Empress Sisi holidayed - then onto Bolzano. The next day you have to get out your Italian phrase book, because from Trento si parla italiano. Continue cycling to Lake Garda and enjoy Italy's largest lake before finally heading to Verona!
Lake Reschen - Lake Garda
A very similar route as on the cycle tour Lake Reschen – Verona, but instead of heading south of Lake Garda, we stay in the beautiful north!
The lake and its charms invite you to linger! Here you can spend one or two nights longer!
Family tours

in South Tyrol
South Tyrol for families
A tour that you can easily complete with even the youngest members of the family! The mileage of the daily stages can be tailored for our younger guests and the stage destination appeal to both parents and children! Perfect for your next family holiday!
Adige Cycle Path for families
Have you always wanted to cycle the famous Adige Cycle Path by bike, but are worried your children couldn't keep up? Please forget that thought now – the Adige Cycle Path for families has something for every age and performance level! Enjoy time together with your loved ones and start the cycling adventure on the Adige Cycle Path together!
Questions & Answers

about your cycling holiday in South Tyrol
Sorry! No FAQs were found. Please try again with a new search term.
We offer these individual cycling tours with luggage transfer in South Tyrol:
We distinguish between four levels of difficulty for our cycling tours: easy, medium, challenging and athletic. No matter which level of challenge suits you, we have the right cycling tour for everyone in South Tyrol. If you prefer a more leisurely and enjoyable trip, we recommend our tours in the easy and medium categories. For more demanding routes, you should opt for ambitious or sporty tours.
South Tyrol has a lot to offer not only in terms of scenery, but also in terms of cuisine. Thanks to its geographical location between Austria and Italy, you can taste both cuisines. Pizza and pasta are served, as well as spinach dumplings and Bretteljause. So there is something for every taste.
The best time for a cycling holiday in South Tyrol is between April and October.
Travel reports

about cycling tours in South Tyrol
Useful information

about a cycling holiday in South Tyrol
Cycle paths

in South Tyrol
You can't say much about the cycle path network in South Tyrol – except that they are perfect! South Tyrol is like no other region of Italy in that it is prepared for cycling tourism and offers visitors a well-developed range of cycle paths and low-traffic routes that can be perfectly travelled by bike! You will be enthusiastic to cycle!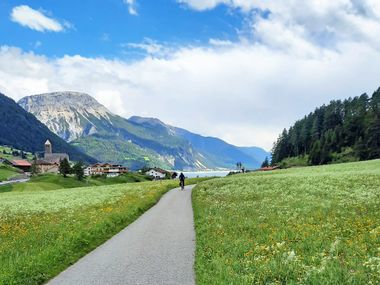 The
climate

in South Tyrol
The climate in South Tyrol should be imagined as follows: The Alps in the north of the region keep off the uncomfortable, cold north winds. The warm, humid air of the Mediterranean region are held south of the Dolomites, which means it also rains less in South Tyrol. The region is therefore well protected all around and offers optimum cycling weather! In general, the weather in the north is more like Austrian weather. The further south you head, the more Mediterranean it gets!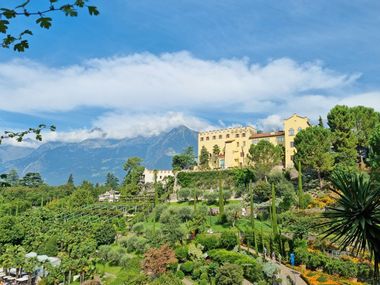 The cuisine of South Tyrol is usually associated with hearty home cooking. Of course, you can feast on a faultless pizza or great pasta dish. However, the South Tyroleans are better known for their fantastic spinach dumplings with brown butter, the Schlutzkrapfen and traditional Törggelen. This is an old custom in which harvesters were invited to a meal to taste the new season wine. In addition, a variety of South Tyrolean specialities were served. Previously, these were roasted chestnuts, nuts and sweet doughnuts. The main course featured simple farmer's dishes such as barley soup, bacon, sausages and rye bread. These days the custom has changed a bit – hearty slabs of meat, sausages, sauerkraut and dumplings now delight the palate of guests! As an old South Tyrolean saying goes: "Törggelen is about three things – the joy of work, the joy of the fruits of labour and the joy of celebrating with friends!"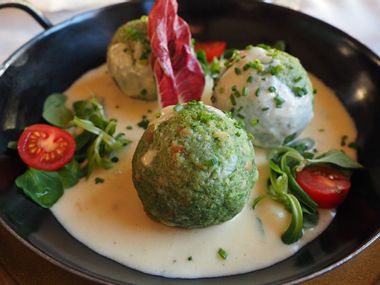 …that South Tyrol is the oldest wine-growing region in the German-speaking world?
…that more than 40 dialects are spoken in South Tyrol?
…that South Tyrol is officially trilingual: German, Italian and Ladin are the official languages.
…that almost 35% of the total area of South Tyrol is alpine pastures?
…that Ötzi was South Tyrolean?
…that you should never call a South Tyrolean Italian?
At
Eurobike

, we look forward to helping you plan your holiday in

South Tyrol

!
More
cycling destinations

in Italy