Stroll through the beautiful Lienz and take a break at Lake Pressegger, then enjoy your first cappuccino in Tarvisio and visit Lake Bled in Slovenia. Make a stop at Miramare Castle, and you'll have reached your destination in Trieste.
Individual arrival to your starting hotel in the "Hochpustertal" valley.
From the water-shed of the rivers Drau and Rienz on Toblach saddle you cycle downhill from South Tyrol along river Drau. By crossing the Italian-Austrian border you leave South Tyrol and reach Lienz in East Tyrol, where impressive summits of the Dolomites seam the way.
After a short transfer on Gailberg Pass (350 m/7 km) a downhill section brings you to Kötschach Mauthen. Follow the Gailtal Valley cycle path at the foot of the Carnic Ridge, pass Hermagor and take a bath in Pressegger Lake. Overnight stay is in Feistritz an der Gail.
You cycle to the Italian boarder and continue on the cycle path. Soon you leave Italy and reach Slovenia. Past the well-known skiing area Kranjska Gora the cycle path winds through marvellous, mainly unspoilt nature. Today you have also the possibility to short the stage at 10 km by using the train (to be bought by your own). Spend the evening on the idyllic lake of Bled.
After a transfer across the pass you reach Soca valley, well known for the exiting canoeing and adventure sports. In Kobarid you get a historic review of the dreadful battles during World War I. After that all lovers of fine food and wine can enjoy themselves. Historic city Cividale del Friuli invites to stroll around. Not only the Devil's Bridge is well worth a visit, a number of cultures as e.g. Goths, Langobards and Francs left their traces.
On your way through Collio Goriziano, centre of the Friulian wine-growing area, many wine-cellars invite to stop and taste the first rate wines. After some small hills we come to Gradisca d'Isonzo. We recommend ambitious cyclists doing a longer tour via Udine. The most important city in the historic region of Friuli-Julitsch Venetian is a visit worth it!
Karst now is our companion to the Adriatic Sea and castle Miramare is worth a stop before we enter the ancient Hapsburg city Trieste. Recommended is an excursion to the biggest grotto of the world accessible for tourists, Grotta Gigante on the Slovenian border.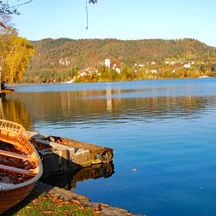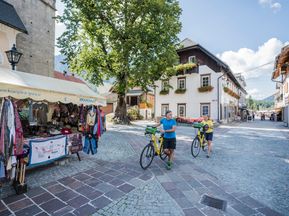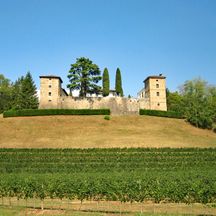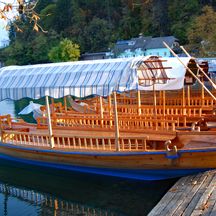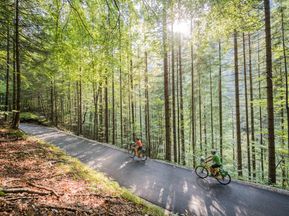 ©
www.wisthaler.com - Harald Wisthaler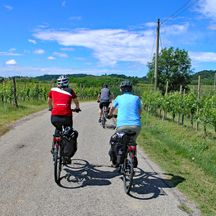 The bike trip to Trieste is a varied tour, the last two stages are slightly hilly. The route runs on cycle paths or along very quiet side roads through small villages and idyllic landscapes.
Further details about this tour
Included
Accommodation as already mentioned
Breakfast
Luggage transfer
Carefully elaborated route description
Detailed documentation 1x per room (German, English and Italian)
1 Transfer by minibus from Oberdrauburg to Gailberg pass
1 Train ticket Bled – Most na Soci/Kanal ob Soci incl. bike
App for navigation and GPS-data
Service-hotline
Optional extras
Return transfer from Trieste to Hochpustertal by shuttle bus every Wednesday and Saturday, costs EUR 96 per person, for your own bike additionally EUR 39, reservation is necessary, payable in advance
Things to note
Tourist tax, if due, is not included in the price!
Arrival / Parking / Departure
Train station Niederdorf or Toblach (depending on the arrival hotel)
Airport Treviso,Venice, Triest or Innsbruck
Free, public car park in Hochpustertal valley near your hotel.
Good train connection between Trieste and Hochpustertal (daily, departure at approx. 6.40am., it is not possible to take the bikes with you)
Things to note
Tourist tax, if due, is not included in the price!
Further important information according to the package travel law can be found here!
This tour is a partner tour.
Other tours

that might interest you