The
most popular cycle tours

for families
Cycling fun

for the whole family
There are special requirements for a cycling holiday, especially for families: which route is family-friendly and also the right one for children? In which accommodation are cyclists with children welcome? What can we experience with our children off the cycle paths? This is exactly why we have developed very special cycle tours for families, which guarantee a successful cycling holiday for young and old. Convince yourself of our large family programme and find out below what is so special about our cycle tours for families.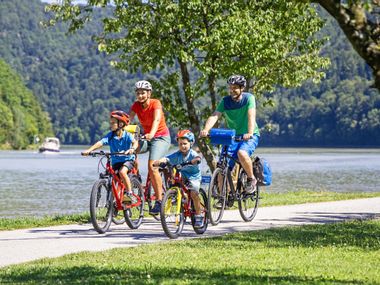 Eurobike – your specialist for
cycle tours with children
A cycle tour with children is definitely one of the most beautiful and most suitable ways to go on holiday with the whole family. So the trip goes smoothly and all family members enjoy a wonderful family holiday, there is a lot to consider!
As a specialist in cycle tours with children in Europe, Eurobike offers a variety of different cycle tours for families that meet all the requirements of a great cycle tour with children:
Rental bike insurance

Detailed travel documents with route maps, route descriptions, all the important telephone numbers and information on activities for families
The
right stages with children
The perfect cycle tour with children starts with the careful selection of the route. Of course, the children's age and experience with cycling also plays a role. Excessive demands on children can quickly lead to frustration and stress for parents, two things that have absolutely no place in a cycling holiday with children. That is why we at Eurobike pay particular attention to the route selection, the length of the stages and the children's suitability to the individual cycle paths. So nothing stands in the way of a carefree holiday with even the smallest family members!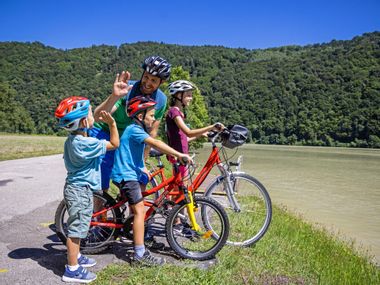 Route selection
In order to avoid being overwhelmed, the route should in principle be rather flat and have little or no inclines. Small inclines can create a sense of achievement in parents and children, but they should be the exception. River bike paths like the Danube Cycle Path, the Moselle Cycle Path and the Adige Cycle Path are a good choice. These naturally run downhill and are particularly scenic. But other routes that run flat or even continuously downhill are very suitable for a cycle tour with children. Good examples are the family-friendly Lake Constance Cycle Path and the Alpe Adria Cycle Path.
Cycle paths suitable for children
Not only the natural condition of the route is important. When cycling with children, there is another important factor: road traffic. A lot of traffic leads to insecurity and quickly reduces the fun of cycling. Therefore, you should definitely pay attention to the course of the route. In recent years the number and quality of cycle paths has improved enormously. In many regions of Europe there are special cycle paths for cyclists away from the roads, such as our family trip along the Danube or our family trip along the Adige in South Tyrol, which can be cycled with children without any danger. Away from the cycle paths, you should pay attention to a route with little traffic. But roads with a little traffic are also easy to navigate with children.
Length of the stage
In addition to the nature of the terrain, the distance of the stages is also important. The further the distance covered, the longer the time on the bike and the more strenuous the day becomes. Breaks are particularly important on a cycle tour with children and, in addition to the variety, also provide a boost of energy for the rest of the tour. You should always plan enough time for fun adventures along the route.
The length of the stage should be chosen according to the experience of cycling and additional activities. A stage length of up to 45 kilometres can be done with experienced children. But shorter routes of around 15 kilometres or more also have their appeal, provided the supporting activities are right. On multi-day cycle tours, it is nice if the stage length varies on a daily basis on order to allow for relaxation on individual days.
A day break filled with other activities is a great way to make your cycling holiday with children even more varied. An average stage length of 30 to 35 kilometres per day has proven itself for active families.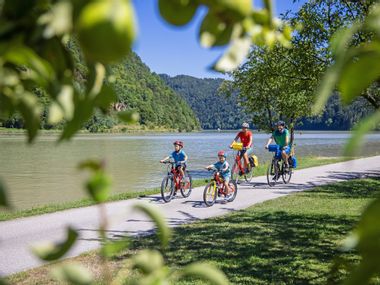 Family-friendly

accommodation
We have special requirements for our accommodation for cycle tours with children: it must match the length of the stage and be close to the route, there must be a safe place to store bikes and it must offer enough space for them. In addition, the smooth flow of luggage transport is important. Furthermore, for family cycle tours, the selected accommodation is particularly family-friendly and offer spacious rooms. Where possible, we will book accommodation for your family with a swimming pool, playground or other additional offer for families so that your children can really enjoy their stay.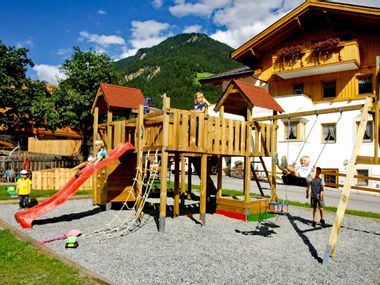 Adventures

along the route
A cycle tour with children becomes the perfect family holiday when there are many highlights and adventures off the beaten track in addition to cycling. So the children also have a goal in mind that promises an additional reward. Great bathing opportunities, such as along the Ten Lakes family tour in the Salzburg region and much more make a cycle tour for families a great adventure. Or at the end of the trip there is a great region with countless opportunities for fun and games, like on our family tour to Lake Garda. If there are also playgrounds, museums and great nature with numerous animal species along the route, every child will have fun.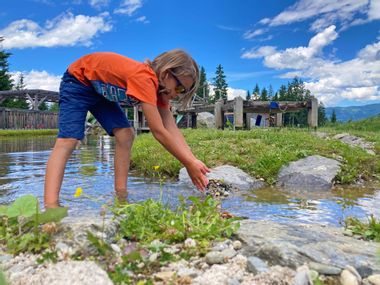 Rental bikes
for children
The most important 'tool' for a cycle tour is of course the bike. In order for the cycle tour to be fun on holiday, the bike must comply with road traffic regulations, be low-maintenance and sufficiently robust. The bike has to be the right size for both children and adults. If it is too small or too big, pedalling will quickly become ineffective, the seat uncomfortable and potentially make cycling unsafe.
In addition to the bikes and electric bikes for adults with solid quality and the best comfort based on the proven quality of KTM bikes, we also offer children of all ages the right base for a successful cycle tour. For your children you can choose from the following:
Children's bikes 21 speed (with freewheel/20/24/26 inches)
Tag-along (with free wheel/20 inches)
Child trailer for 1 to 2 children
Children's bike 20 inches + Follow-Me tandem coupling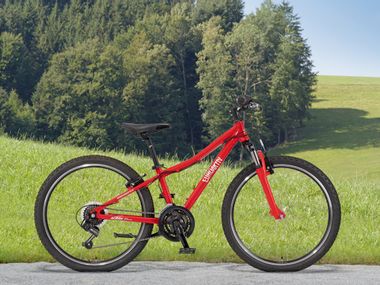 Travel documents

for families
As with all of our cycle tours, our family tours also include the tried and tested travel documents package. It contains detailed map material, route book and city maps and further information. The specialty: In the route book you will find a lot of information about adventures for children along the route under 'Things to See and Play'. This not only guarantees fun for the whole family, but also ensures their safety. Because security also includes the appropriate maps and preparation for the route. Cycling happily with children can quickly end on a busy road and thus increases the risk of accidents. All necessary telephone numbers should be at hand so that in the event of an accident or breakdown we can react immediately. It is also important to know about the next bike workshop so that in the event of a breakdown the bike can be quickly repaired, and the tour continued.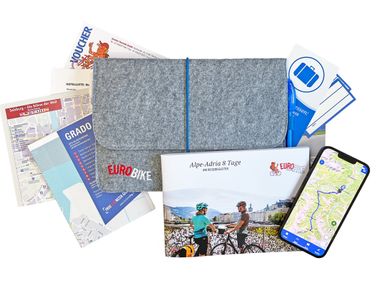 Luggage transfer is included in the price of all of our family cycle tours. So you can pack everything in the suitcase that you and your family would like to have with you on holiday. Because travelling with the family always means lots of luggage. Of course, there is the possibility of taking luggage on tour, but the extra weight is a burden and you can never take all you want to take. But thanks to our luggage transfer you don't need to make compromises when choosing your luggage – you cycle relaxed from accommodation to accommodation and your luggage is comfortably transported by us to your next accommodation.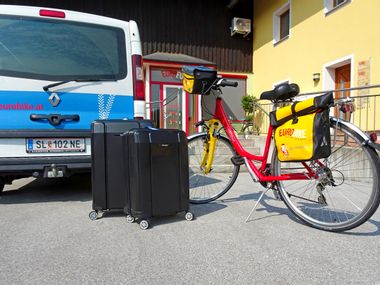 That's why
cycling holidays

with Eurobike


Advantages

that convince