Great stages &
varied

routes
From Lake Reschen until Lake Garda you mostly cycle on beautifully designed cycle paths leading you for the majority of the time along the Adige cycle path. Every day we cover between 40 and 50 kilometres except for our final stage, which is about 90 kilometres in length, since we skip the Trento stage and cycle directly from Ora to Lake Garda. From Lake Reschen the route takes us almost 1000 metres in altitude downhill with only a few ascents. It leads past magnificent apple orchards and through little village alleys, which exude their very own charm.
With every kilometre that we leave behind, we dive deeper into the Mediterranean flair and the cool wind changes into a warm breeze. Overwhelmed by the many fantastic views, we drive past typical South Tyrolean towns such as St. Valentin, Burgusio, Malles, Schluderns or Lana. Bit by bit we get closer to our goal and experience South Tyrol in a completely new way by bike.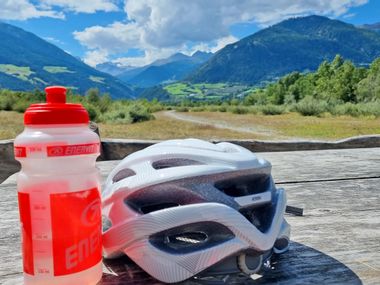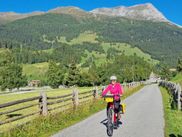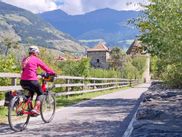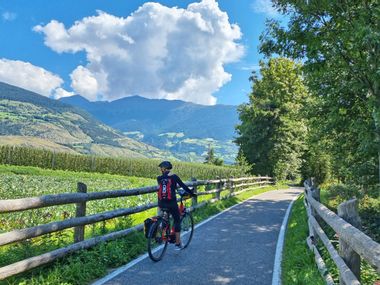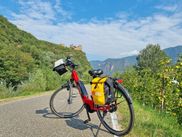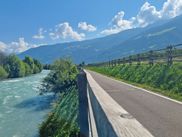 Pure holiday feeling

: my South Tyrolean highlights
South Tyrol has a lot to offer in terms of landscape and culture. Starting with the sunken church tower of Graun to the beautiful apple orchards and vines that are our constant companions. While cycling you can see an impressive castle on almost every mountain towering into the sky and in every town a beautiful church. Each Day Finish offers several sights. In Bolzano we stroll through the 'Laubengasse'-arcade to the fruit market and allow ourselves to be enchanted by the hustle an bustle of the city.
Merano exudes a special flair and awakens the holiday feeling with its beautiful old part of town and the green promenades featuring numerous palm trees. One of my absolute highlights are the Gardens of Trauttmansdorff Palace in Merano. On an area of twelve hectares you can marvel at natural and cultural landscapes from all over the world, botanical rarities and themed gardens. I definitely recommend planning more time to stroll through the park and discover everything. A little tip: Visit the botanical gardens early in the morning and you will nearly have them all to yourself.
South Tyrol – the enjoyment
paradise
In South Tyrol, everyone acquires a taste for it, be it a wine full of character or the famous South Tyrolean speck: The delicacies of the region make every connoisseur's heart sing. In addition to speck, small village shops also offer cheese or 'Schüttelbrot'­ and invite you to take a culinary break. Our partner hotels have an excellent breakfast, where there is something for everyone and after that we have plenty of energy to push the pedals. Our saddlebags are extremely practical and we pack a snack every day, which we enjoy en route at a lovely spot in the sun with a marvellous view. But there are also countless places to stop for refreshments along the routes, where you can experience South Tyrolean cuisine. In Schlanders and on Lake Garda we treat ourselves to an incredibly delicious pizza. In Merano we get a delicious 3-course menu in the Försterbräu, located directly in the middle of the city. In Bolazano and Auer we treat ourselves to tasty pasta with a glass of wine served directly in the hotel.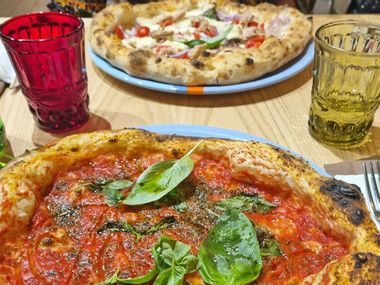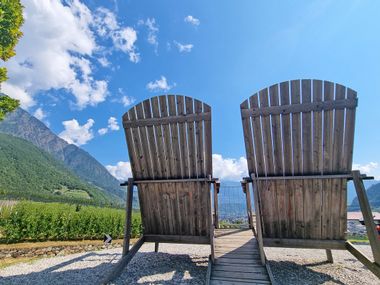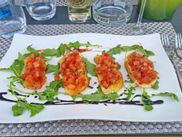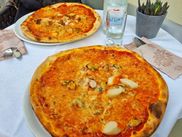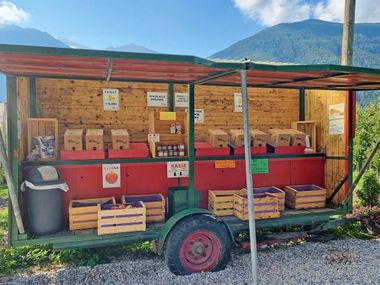 Mediterranean ending

on Lake Garda
The final destination of our beautiful cycle holiday along the river Etsch is Lake Garda, or more precisely Riva del Garda. Every kilometre that we have covered since the Reschen, we feel the warmer temperatures and the change from South Tyrolean life to Italian flair. However, before we reach our destination, we have to overcome a short steep ascent in Mori, where we make a short stop in the cute little village. Here is also the Gelateria Bologna, where we are rewarded with delicious pistachio ice cream.
This followed by a long descent and we experience a breathtaking view of Lake Garda. After checking into the hotel, we enjoy the sunset on the lake shore and listen to the sound of the waves. Later we stroll through the beautiful Riva del Garda with its wonderful Italian alleys and end the evening with a glass of wine and an incredibly delicious Neapolitan-style pizza.
My Conclusion: South Tyrol is a
dream

for both cyclists and connoisseurs!
South Tyrol and the Etsch Cycle Path offer a wonderful opportunity to experience nature, culture and the cuisine of Northern Italy. A wonderful cycle holiday that I can recommend to everyone to get to know and discover the beautiful South Tyrol and Lake Garda. This tour perfectly combines being active with relaxation.