The
criteria for a quality

cycle path
Imagine this: you cycle 260km past apricots, wine, memorable Roman towers, imposing castles and idyllic gardens. In between you take a short break in a cosy tavern. Every few metres you will find helpful signs that show you the distances. The Danube Cycle Path – which we just described – is a quality cycle path. But what makes it so?
Criteria for a quality cycle path:
Few confusing parts and bottlenecks
Priority for cyclists on the path
Wide lanes, which also allow for overtaking
Cyclist-friendly businesses along the route
Optimal road surface
Adequate lighting
Path off the road
The Danube Cycle Path was awarded four stars for excellence by the ADFC.
Popular quality

cycle paths
Along the danube cycle paths
The star among the cycle routes:
The Danube Cycle Path
The route runs from Passau or Schärding to Vienna as you follow the beautiful blue Danube. You travel through the legendary Nibelungengau, where many a powerful king and emperor made his forays. On your bike tour you will get to know the historical significance of this time-honoured trade route. The cycle tour from Eurobike offers you two entry points: either in Passau or Schärding am Inn. Culture and enjoyment are not lacking in either.
Set off on one of the most beautiful quality cycle paths in Europe – and enjoy the comfort and safety of the certified path!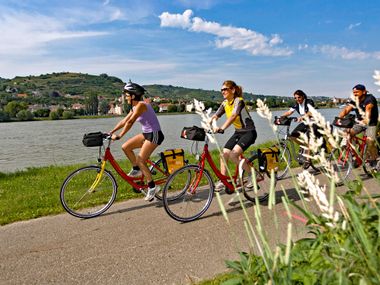 Do you appreciate excellent cycle routes, a strong infrastructure and the best signage? Then cycle on a quality path and experience the countryside on two wheels!