Of course you are used to exploring the surroundings with your own bike. But if you are thinking of taking your own bike on your cycle tour, there are some points worth noting:
Before travelling, you should make sure your bike meets the general road safety requirements and is equipped with the appropriate gear to make it suitable for a multi-day bike ride. You'll probably need to visit a specialist.
With a Eurobike rental bike you are on the safe side. Because with our wheels we rely on brand quality: the smooth-running bikes from KTM boast modern brakes, aluminium frames and comfortable saddles from Selle Royal. You use a bike with puncture-proof tires, which is specially tailored to your tour. There is nothing standing in the way of starting a wonderful week of cycling.
Tip: Read more here about our bikes and equipment.
Convenient arrival and departure
Yes, cycling can be exhausting. In order to have enough energy for your tour, it is advisable not to waste it before the tour starts. You will also benefit from the Eurobike rental bikes on departure: you simply leave it at the last hotel on your journey.
Tip: For most tours, the on-site tour guide will give you the rental bike. The advantage: your set of wheels can be adapted to your individual needs on site
Cost-saving transport
Depending on the means of transport you use, it is often cheaper to rent a bike on site. Because rail and airlines often charge a fee for bike transport, so renting a bike on site can save you money.
Tip: Unfortunately, damage may occur when transporting your bike by plane or train. The best way is to look at the airline or railway website in advance to find out insurance options.
Well maintained

bikes & roadside assistance
After every cycle tour, our Eurobike rental bikes are put through their paces. Tires, brakes, chains – our competent bike expert misses nothing. A top-maintained bike is guaranteed!
Sometimes breakdowns can't be avoided however. But thanks to our breakdown and emergency kit this is no problem. With our repair kit, you can easily repair minor problems yourself. If the damage is bigger, you can of course contact us at any time and the local Eurobike team will take care of the repair or provide a spare bike. A breakdown service is possible with our rental bikes, but unfortunately not with your own bike.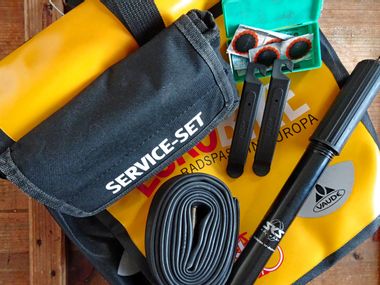 Which brings us to our next point: of course we hope it doesn't happen, but it can happen that your bike is damaged or stolen during a tour. But don't panic: rental bike insurance against theft and damage is included in the rental price for all Eurobike bikes. Should such complications arise during your tour, we will of course provide a replacement as soon as possible.
Tip: We recommend insuring your private bike too!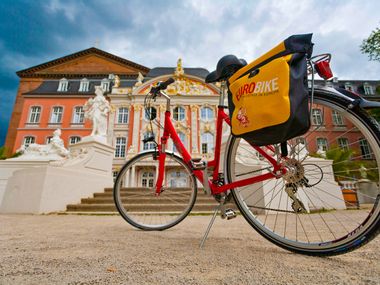 Treat yourself to more
comfort
There are many reasons for renting a bike: some find the transport of their own bike too tedious, others simply want to test a better, smoother bike and our all-round service. With Eurobike rental bikes, everyone has the opportunity to borrow a top-grade bike that has been developed and improved over decades to provide extra comfort.
Tip: Are you considering buying an e-bike? Why not try one out on a tour first?