On Wednesday there was still quite a lot to do in the office and so the night before we quickly packed up everything we needed. On Thursday we got up early as it was time to set off on holiday. To make things easier we took a taxi to Salzburg station where we took a train to Munich airport for our direct flight to Madeira. The flight itself was great and the descent and landing at Cristiano-Ronaldo airport was the first memorable experience of the holiday. Maderia's east coast gives a clue as to what the island's topography is like - the cycle tour is going to be hilly! We spent the first evening at the Four Views Oasis hotel in Caniço. A combination of an evening stroll along the promenade, an extensive hotel buffet and a first glass of Madeiran wine rounded our arrival day off.
Day 2: Caniço –
Porto da Cruz
Our excitement grew - how hilly would the tour really be? We were soon to set off… after breakfast we packed up the last few things in our day bags. At 10:15 we were welcomed by the Eurobike team in the hotel's lobby. Together with eight other guests we were given our bikes by Lucy and Nunu and were told a few last pieces of information. Afterwards they took us and the bikes by bus and trailer to Camacha. The bikes were checked over once more quickly in the village square and then we set off. The weather was not at its best… at times the scenery came across like an enchanted forest due to the large trees in the clouds. On occasion though we could spy the sea when the clouds cleared. The bright gardens in bloom at the side of the road provided for dashes of colour along the way. In the afternoon, we took a detour to Santo de Serra, which is a sleepy little village with a lovely park as well as wonderful views! In the centre we could buy freshly baked Bolo do Caco (sweet potato bread), which was perfect for snacking on along the way!
©
Copyright (c) 1998 Hewlett-Packard Company
We didn't have far to cycle from here until our 6km long descent to Porto da Cruz began. We got breathtaking views over and over - you simply have to stop and take them in. In Porto da Cruz we had one destination in mind: the sea! The inviting and cosy promenade was small but very fine and was an ideal place for us to buy some cocktails as a reward for our cycling. We had some time before we were being picked up. Unfortunately we couldn't stay in Porto da Cruz as the hotels were fully booked so we had to say farewell and move on! We stayed another night at Four Views Oasis hotel. This evening we went to a restaurant along the promenade. Whilst having some Sangria we observed the locals and what they picked to eat. We decided that we had to give the frequently served starter a go. So we ordered Lapas even though we were not really sure what it was. We tried it and we loved it. Once we got back to the hotel we googled Lapas and got a surprise: limpets. We will continue calling them by their Portugese name, Lapas, and are sure to eat them again!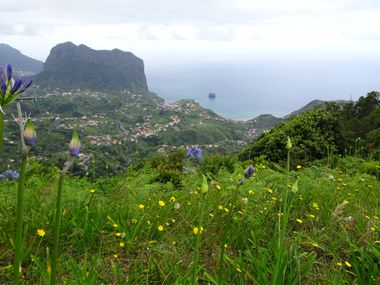 ©
Copyright (c) 1998 Hewlett-Packard Company
Day 3: Porto da Cruz –
São Vicente
Today we set off earlier. We were picked up punctually by the Eurobike team. With one stop in Porto da Cruz where the other guests were picked up, we were then on our way to Santana. The village is well known for its traditional houses with thatched roofs. I made sure to get a photo of them from all sides! Thankfully the weather was on our side today! We set off and the stage began with a cheery 5km descent. It's crucial not to forget to take breaks on the descents though because the views are tremendous! It soon crossed our mind that with all of these speedy descents we would soon enough have to cycle back uphill!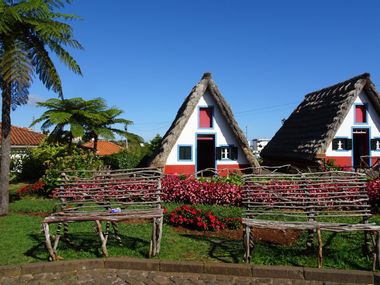 ©
Copyright (c) 1998 Hewlett-Packard Company
But everything has its advantages: when cycling uphill you get lots of time to look at the flowers on the edge of the path and to truly admire the scenery. Soon enough we had conquered the first ascent of the day. We bought ourselves shrimp soup and a cool beer as a reward in São Jorge. Coral beer is actually produced in Madeira! We stayed close to the coast on our hilly way to São Vicente and our hotel, Estalagem do Mar. From the room we had a a great view of the roaring sea. We just went a little way down the road for dinner. We had sword fish with banana and a good bottle of wine. The combination sounds a bit weird but it is in fact extremely good and is typical for the island. Summary of the day: it was rather tough but it was also extremely lovely!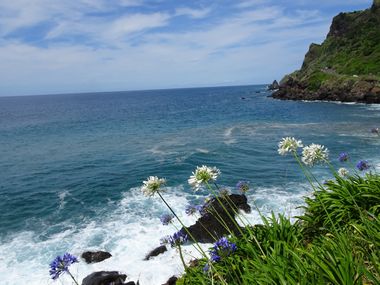 ©
Copyright (c) 1998 Hewlett-Packard Company
Day 4: São Vicente –
Porto Moniz
This morning we were picked up too. Nunu took us towards the Paul de Serra plateau. Within about 12km, there is about 1000m ascent so we were rather happy to be sitting on the bus rather than on our bikes. But even once we got off of the bus there were still many hills about. The Maderian scenery and the views from this high road were extremely rewarding: a sea of yellow gorse combined with the lush green and the deep blue sea afar made for a wonderful visual spectacle. Once we got right up to the top of the plateau it was totally flat for the first time! The road almost seemed to be like an endless highway heading straight for the sea. At one point you even get the chance to see the sea on both sides - unfortunately we were not blessed with this opportunity.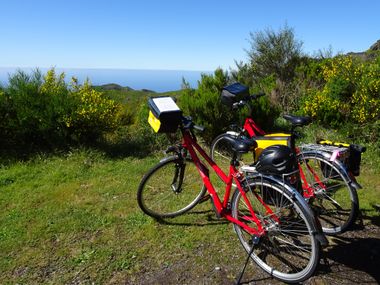 ©
Copyright (c) 1998 Hewlett-Packard Company
During the speedy descent you forget everything from up high at the plateau. Back by the sea, the ancient roads run on the edge of the steep cliffs. After just a little while we could see Porto Moniz and in the early afternoon we arrived. After a late lunch we looked around the place, which is famous due to its natural bathing pools that are made out of volcanic rock. It is quite busy here and the day guests are wandering the streets. Today was not suitable for swimming - the sea was too rough. It makes it easy to imagine how the wild and rugged cliffs have been shaped over hundreds of years. Today we stayed at Hotel Moniz Sol where we had half board, which allowed us to try all sorts of great regional dishes. Whilst on an evening stroll through the village we noticed that we were almost the only ones out and about! There was no trace of all of the day guests who had come from Funchal… We enjoyed the quiet and listened to the sea once more!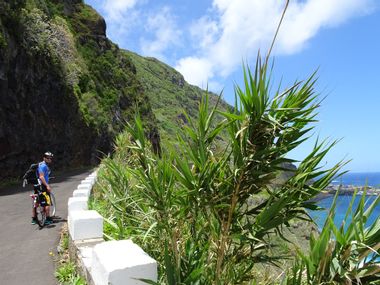 ©
Copyright (c) 1998 Hewlett-Packard Company
Day 5: Porto Moniz –
Calheta
It was necessary to have got a good night's sleep for the ascent that needed to be done this morning. The weather was on our side again and we cycled under slight cloud cover up the twisty road behind Porto Moniz. A few stops to take a breath are worth it and along the way you keep getting rewarded by getting yet again another fantastic view of the volcanic pools. Having arrived at the top, the scenery changed and we cycled along the quiet coastal road past a very sparsely populated area of the island where there was a lot of forest and untouched nature. Eventually there started to be more places along the side of the road again.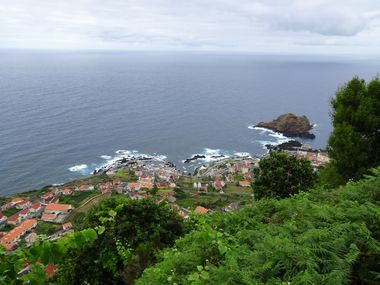 ©
Copyright (c) 1998 Hewlett-Packard Company
In a lively up and down fashion, we continued further along towards today's destination. Towards the end of the stage we were rewarded with another long descent. We stayed at the 5***** Hotel Savoy Saccharum. Right after arriving at the hotel the hotel's private beach was calling us and we jumped into the sea. A great way to refresh after a long day's cycle! In the evening we ate à la Carte at the hotel's restaurant and ended the day with a wonderful view out across the sea!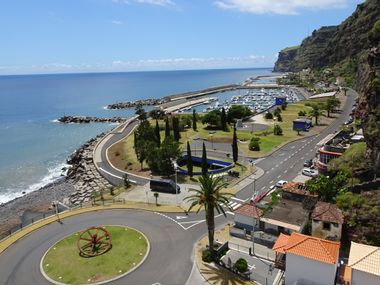 ©
Copyright (c) 1998 Hewlett-Packard Company
Today's bike tour began with an ascent too. Today we were accompanied by banana plants to our left and our right. Our legs were tired but the views still made everything so incredibly worthwhile. Ponta do Sol is located right by the coast. The hustle and bustle on the streets made us curious so we stopped and took a walk through one of the small alleyways to discover we were right in the middle of a village festival! Further along the route we could tell when we were approaching Funchal… the settlements were getting closer together and the places more touristy! After getting to Ribeira Brava it was a long steady climb. But the destination was worth it: the view point from the "Cabo Girao" cliffs was definitely one of the tour's highlights. From the 600m high glass platform above the sea you can get a spectacular view! A speedy descent brought us closer to today's goal.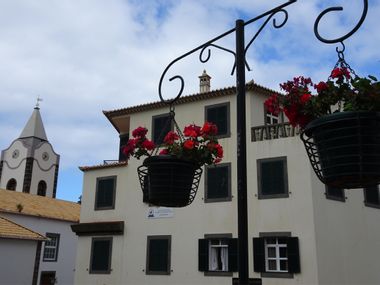 ©
Copyright (c) 1998 Hewlett-Packard Company
We had a late lunch in Câmara de Lobos. It is wonderfully colourful there - here there is a village festival going on too! Nevertheless, we needed to get to Funchal so we continued on our way. We stayed at the Four Views Mounmental hotel. Tourism cannot be escaped here. There was a huge range of restaurants and shops right outside the hotel door. In the evening I met with the Eurobike team in Madeira. I got a tour through the small but very nice Madeiran Eurobike station where the bikes are kept and there is an office. We raised a glass to the successful week. Back at the hotel my boyfriend was waiting for me as we were going to enjoy the evening at a restaurant. Tomorrow we want to go out in Funchal's old town.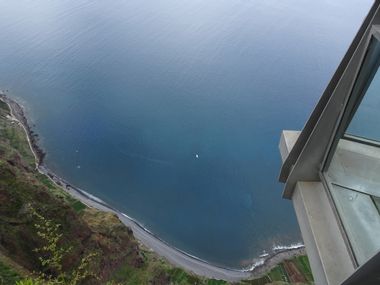 ©
Copyright (c) 1998 Hewlett-Packard Company
Today we went on a tour of Funchal. By taking the bus, we got to the harbour in no time at all and from there we took the cable car to Monte from the valley station. When getting into the cable car it reminded us of home: Doppelmayr cable cars really are everywhere! Although we had a return ticket we couldn't resist taking one of the wicker toboggan sledges. We went down the windy roads in a crazy descent and all too quickly the fun was over - but it was definitely worth it. Lots of taxis were waiting at the bottom but we chose to walk! It was just straight on to get into the old town. The old town was decorated with black and white cobblestones. We took a break now and again to give our feet a rest.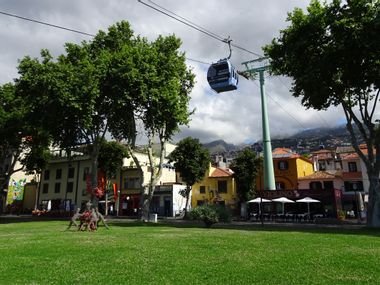 ©
Copyright (c) 1998 Hewlett-Packard Company
Once there we headed to the well-known market hall where there is some great fresh fruit and speedy market sales! It's easy to spend a few Euros here… in the evening we wanted to eat dinner in the old town so we had a little siesta and got dressed up! Once back in the old town we explored a new part of town and a new cluster of great looking restaurants, which didn't make it easy to pick where to eat. We decided to try an Espetada-Gill where we tried traditional meat dishes! We couldn't stay up too long tonight… the holiday was slowly coming to an end and we had to set off early in the morning!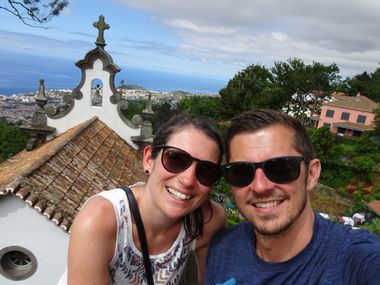 ©
Copyright (c) 1998 Hewlett-Packard Company
Whilst travelling to the airport it was still dark. We would have loved to stay a bit longer… but our holiday didn't quite end here as we had decided to go to Lisbon for a few days to enjoy Portugal's capital city.