Arrival to Turin

and warm welcome by Cesare and Alberto
During the train ride from Innsbruck to Bolzano we got into a conversation with a nice lady from Munich and found out by chance that she has been on one of our Eurobike tours. Sometimes the world really does seem small… The train journey to Turin goes by really fast. In Verona we changed trains onto the "Frecciarossa" and we then found that we were then in Turin in no time at all. Taking the train is a really good alternative for those who find driving strenuous. At Turin train station Andreas and I were picked up by our charming colleagues, Cesare and Alberto. It's lovely when you are given such a warm arrival! We talked about the bike tour over a traditional Piedmontese dinner and an excellent glass of red wine and we made a more precise plan for the next few days. We were very happy that Cesare could accompany us on our tour as we never get time to chat properly during the season. Furthermore, Cesare knows everything there is to know about this area and the locals!
Andreas
created a fantastic tour
We were truly inspired by Andreas' latest tour! The route gently winds its way through the wonderful Piedmont region and the small italian towns along the way are very welcoming. Mondovì has especially stuck in my mind: this romantic old town located on a hill is accessed by a funicular railway. We wandered through the market and were impressed by the sheer amount of fruit and vegetables that this little town had on offer. We found the leek stand particularly amusing 😊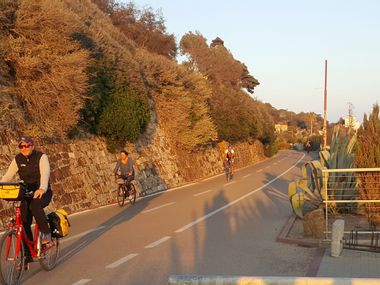 ©
Copyright (c) 1998 Hewlett-Packard Company
Visiting our partner hotels and attachment of the Eurobike arrows
Whilst on our tour we visited our partner hotels and finalised the last details over a proper good italian espresso with the head of each hotel. The italian hospitality really is something else - I love Italy so much! We carried out one stage of the the tour by car so that I could get a good impression of the whole region and so that we could put up our Eurobike E-arrows pointing the way. "Thank God that Claudia is so sporty and fit because putting up the stickers requires good organisation and needs to be done as quickly as possible", said Andreas. Andi drove the bus and stopped wherever I needed to jump out, put up the sticker and jump back into the bus (or hang out of the window). The next day we started again but had learnt our lesson that it's actually just as tiring putting up the Eurobike E-arrows by car as it is by bike and switched back 😊
Breathtaking panoramas during the crossing of the Alps
The scenery on stage 6 was one of my favourite things from the whole tour. The views were absolutely spectacular! We cycled leisurely and with very little ascent across the Alps and then we enjoyed a wonderful decent down to Albenga, which is located on the coast. The last part of this week-long cycle tour went along a cycle path to San Remo. It surprises with its breathtaking panoramic views, which you can even enjoy from many of the beach bars. By the way: our cycle tour includes a freshly squeezed fruit cocktail that you can enjoy at one of the bars at the "Riviera of Flowers". I admit that I indulged myself with a second one too!
All in all: the Ligurian coastline is simply wonderful and is an excellent place for cycling! It's great that Eurobike has been able to develop yet again another amazing cycle tour that will enthuse many guests this season and for many seasons to come. It was also lovely to be able to travel with Andreas once again. Thanks Andi!