Wichtigster Faktor: Spaß!
Yes, it's true, happiness really does sit on two wheels! After just half an hour of cycling, the body releases a mix of biological messengers that fills you with a feeling of joy and satisfaction. The happiness hormone serotonin and the reward hormone dopamine are real miracle substances.
Both have a beneficial effect on your mind. The physical exertion of cycling releases endorphins, and these act as the body's own mood lifters. At the same time, the hormone cortisol is suppressed and stress and anxiety are a thing of the past. Thanks to physical activity, we are the masters of our own happiness.
Exercise is an indispensable part of a fulfilled and happy life. But instead of torturing yourself with monotonous exercises in the gym, why not dedicate yourself to a type of sport where the fun factor is not neglected?
Whether alone or in a group, cycling is simply fun, sharpens the senses and increases well-being. The important thing is to integrate the sport into everyday life and to do it regularly. Because only what is fun makes us happy in the long run.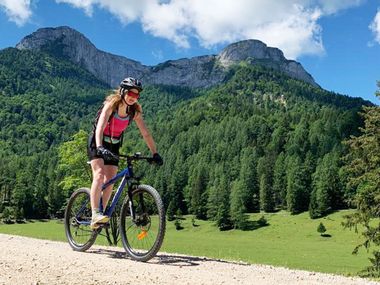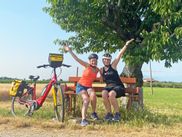 Try to consciously cover small everyday distances, such as going shopping or commuting, by bicycle instead of by car. Just half an hour is enough to significantly increase your well-being in a short time. The desire for more will come all by itself.
Cycling: for a
greener environment
For the sake of the environment, get on your bike now! Riding a bike is not only one of the most sustainable means of transport, it is also easy on your wallet. Rising fuel costs, repairs and expensive insurance costs make driving an expensive affair. On two wheels, you can not only save money, but also reduce CO2 emissions and shrink your ecological footprint.
So, what are you waiting for? Take the first step for a better environment today, because cycling is the future!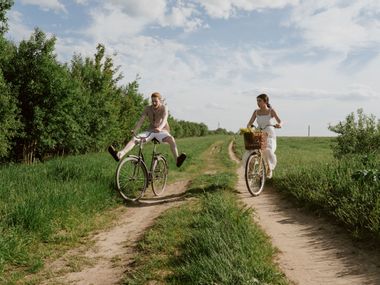 On average, you have a bicycle for more than ten years, and the costs for repair or maintenance are usually very low. We reveal 8 tips for kicking off the cycling season in spring, which will help you keep your bike in good shape in the long term with little effort.
Fit and healthy

on two wheels
Ideally, our winter fat should melt away as soon as possible with the last remnants of snow. The endurance exercise of cycling is therefore an effective cardio workout to get rid of those pesky fat deposits.
Do you know why cycling is so good for losing weight? Because it gets your metabolism and circulation going.
At the same time, fat burning is in full swing and almost all the muscles in the lower body are strengthened. A healthy lifestyle and regular cycling will strengthen your cardiovascular system and prevent heart disease and type 2 diabetes.
Do you also often suffer from annoying colds and coughs during the winter months? Cycling can lead to a noticeable improvement in the respiratory tract, as the immune system is strengthened and becomes significantly more capable.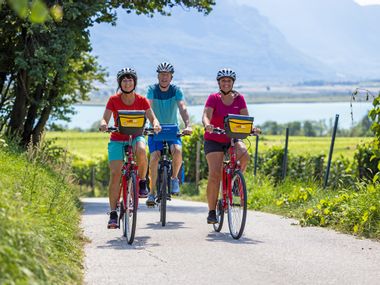 The
best ideas

come from cycling!
It is already known that routine cycling has a positive influence on health, but have you ever noticed that you get a clear head and creative ideas during an extensive cycling tour? No, that is no coincidence! Because cycling exercises the most important muscle - our brain.
The release of hormones ensures the activation of our nerve connections. The constant pedalling of the bike increases the cognitive performance of the synapses and effective learning or working thus works much better. So, pedal away and wait for your next creative brainwave!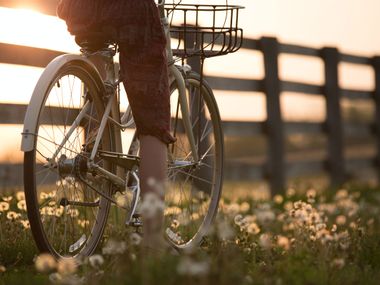 "There is no such thing as bad weather, just the wrong equipment!"
So, there's no excuse for leaving your bike in the basement. Go on an exploration tour in your neighbourhood or discover the most beautiful regions of Europe with one of our Eurobike cycling tours.
What you shouldn't forget on your bike tour can be found in our useful travel checklist.
Why cycling makes
my heart beat faster
Cycling is a passion for me that has been with me since childhood. I love the flexibility it offers me, whether it's on the way to work, shopping or exploring new exciting adventures. The bicycle has been my faithful companion for a long time and is an absolute all-rounder. When I cycle, I feel the speed up close, enjoy the wind blowing around my nose and, incidentally, stay in shape. It helps me to forget the stress of everyday life and to be inspired by the beauty of nature.
I am particularly inspired by the feeling of freedom and independence that I experience when cycling. For me, there is nothing more exhilarating than cycling up a mountain and feeling the adrenaline when going downhill. It is important to control the bike and concentrate on the here and now.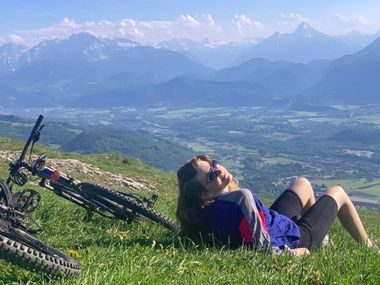 If you are already passionate about cycling and have realized how enjoyable an extensive cycling tour can be, then a Eurobike cycling tour would be the perfect choice for your next holiday. With our four different levels of cycling, you'll find the perfect cycle holiday experience for every level of ability. Happiness, relaxation, the feeling of freedom and adventure are all included. Get inspired by our Eurobike cycle holidays for 2023 and find your favourite bike trip.
Cycling is the key to happiness - If you get on your bike regularly, you can take your well-being into your own hands. Cycling is a real all-rounder and enables a guaranteed happier and healthier life without much effort.