MY CAREER

& more about me
The fields of technology, graphics, and photography have fascinated me from a young age, and as a result, I have accumulated over 10 years of experience in advertising and graphic design. In addition to my technical and graphic skills, I also wanted to cover the business aspect. So, alongside my professional life, I started my four-year long education at the Handelsakademie Neumarkt, which I successfully completed with the Matura.
This intensive experience marked the starting point for another change, and in 2022, I joined the marketing team at Eurofun Touristik. As a passionate cyclist, I am excited to contribute my experiences and ideas about cycling trips, among many other exciting topics, to the Content Team.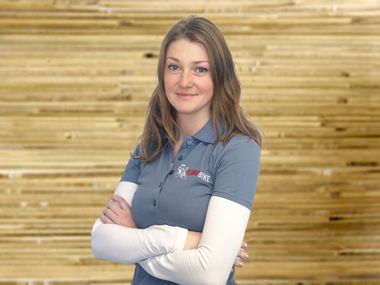 WHAT ELSE IS THERE TO TELL?
MY FAVOURITE THINGS TO READ ...
... exciting novels from different countries, preferably with morals and humor. Additionally, non-fiction books about herbal remedies and nutrition, as well as travel guides, inspire me.
TRAVELLING AND OTHER COUNTRIES ...
... is essential for me to satisfy my sense of adventure. Getting to know cultures and countries is, for me, the most beautiful way to broaden one's personal horizons and gather experiences. The world of marine life and the remedies from various cultures have also fascinated me since childhood.
MY FAVOURITE TRAVEL DESTINATIONS ...
... take me to places where the waves set the rhythm, and that's where I feel most comfortable. Snorkeling and surfing are my personal highlights on every journey. The sea gives me a sense of freedom and adventure.
MY MOST RECENT TRIPS ...
... have whisked me away through the endless olive groves of Andalusia, the historically vibrant cities of Morocco, the surfer's paradise of Fuerteventura, and the cultural trails of Mauritius. My favorite way to experience these places is by enjoying a combination of adventure and relaxation.
HAPPINESS AND CONTENTMENT FOR ME MEANS ...
... taking a deep breath and living in the present moment. Having people around with whom I can laugh and have fun. Health is one of the most important things in life for me to be happy and fully enjoy life.
WRITING FOR ME MEANS ...
... painting pictures in words, a captivating way to transform my feelings and impressions into creative texts, and giving each sentence its personal touch. Handwritten words are the most honest to me, as they capture an emotional moment for eternity.
All blogposts by Elisabeth Buchegger