Day 1:
Lakes Trumer Seen - Lake Mondsee
Late on Sunday morning after a leisurely breakfast we cycled from home to the Eurobike-office and after a few small arrangements started Tour Ten Lakes & Sound of Music. A week ago we received a delivery of new e-bikes, and after quickly consulting our stage-manager Stefan I was able to test one of them extensively on our scouting expedition. After a short test run on the courtyard we headed off cycling on the cycling path along Lake Obertrumer Sees towards Lake Mattsee. That way we had already come across two of the ten lakes in the initial 30 minutes of our tour. With brilliant cycling weather conditions – a mix of sun and clouds and temperatures around 25 degrees - we cycled across hilly pre-alpine scenery, guided by our well-known E-arrows and the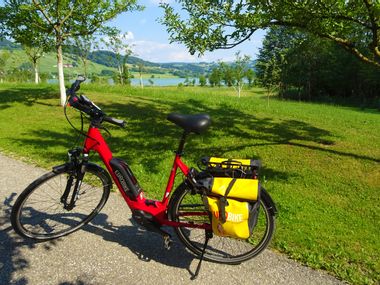 Loosing the way was nearly impossible, since in addition we also made use of the new Eurobike-App, hence navigation became child's play! In this way we cycled past the Egel-lakes, carefree along dirt tracks marked as cycling paths from one place to the next, past smaller and larger farms headed for the mountains of the Salzkammergut-region. Firmly focused on our Day Finish, since we were aware of our stage ending in the beautiful town Mondsee, located directly on the lake with the distinctive Mount Schafberg, shaped just like a giant ski jump towering behind it. We kept cycling throughout the day and took a short break at the less-known Lake Irrsee and enjoyed our packed lunch and a beautiful view.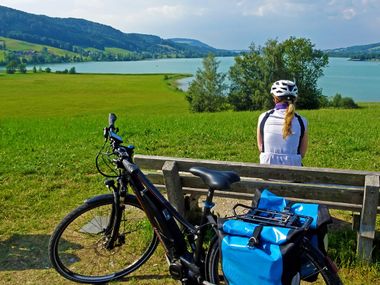 Well-rested and invigorated we continued along the final kilometres for today towards our accommodation, the 'Landhaus Meingast', located on a slope about 10 minutes walk outside of the centre of town, offering a brilliant panoramic view of the church in Mondsee and the mountains situated behind. After a friendly welcome by our host Willi we went to our rooms and then walked into town to explore for a little bit and have a bite to eat.
In the inn 'Wirtskultur' situated directly at the beautiful market square, we enjoyed an elderflower shandy and a delicious soup 'Kaspressknödelsuppe' (typical soup for this area and highly recommended!), before ending the evening with a large ice cream from café 'Übleis', which my colleague Lisa recommended to me since she lives here in Mondsee.
Day 2:
Lake Mondsee – Lake Traunsee
After a large breakfast we got ready for our second stage from Lake Mondsee to Lake Traunsee, left our suitcases meticulously before 9am at reception and got our e-bikes ready. Before we started the tour however we visited our colleague Lisa and her young son to catch up with her for a while, before buying provisions for the day in the supermarket and then setting off. Unfortunately the weather was not as great as the previous day and there were lots of dark clouds in the sky. But we were well prepared and had packed waterproofs. Thus we cycled to the lakeside and rode along the glistening lake sporting fascinating colours despite the bad weather, several photo stops included.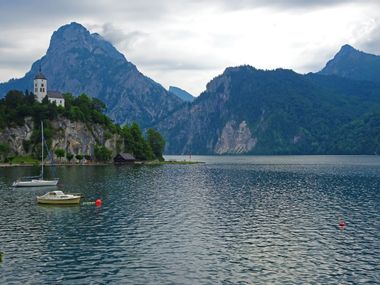 Naturally there were several spots to dip feet into the water, but since we had a long tour ahead of us today, we decided to endulge in this at a later stage of our cycling holiday. So we cycled from Lake Mondsee to the Southern shore of Lake Attersees to Unterrach. Here we stopped for a short break at the Lake Attersee-shipping pier, although we knew that unfortunately we were too early for ships to operate, but the sun came out briefly and we really wanted to make the most of this! Consequently we did not take the boat from Unterrach to Weyregg, but cycled just like all other pre-season guests along the Eastern shore of the lake, which added about another twenty kilometres to our route. Shortly before we reached the Northern end of the lake, Lake Attersee has a length of 18,9 km,
we said goodbye to the lake and proceeded via dirt tracks steadily uphill and downhill en route to Gmunden on Lake Traunsee. We enjoyed a second break at the lake promenade and on top of a snack also enjoyed the view over the lake with Orth Palace situated on a little island. The largest part of today's tour was behind us, but we were still a fair way off our partner Hotel 'Post' in the village of Traunkirchen, cycling 2/3 along the lake. In the evening we enjoyed an exquisite 5-course dinner as part of our half board and afterwards had some time left to explore this quiet little village on foot, situated on a spit. All in all a perfect end to luckily a nearly rain-free day.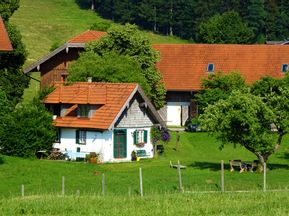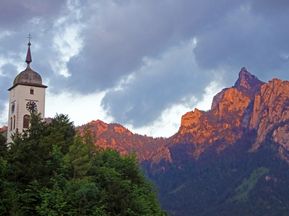 Day 3:
Lake Traunsee – Lake Wolfgangsee
After an extensive breakfast (we are really fond of the cuisine at Hotel Post!) we retrieved our bikes from the bicycle shelter and continued towards the Southern shore to Ebensee. Here I really liked the way the old lakeside road, which today is in parts replaced by tunnels, was turned into a comfortable wide cycling path. In Ebensee our guests usually take the train to Obertraun, but since we skipped this stage, we cycled directly along the river Traun to Bad Ischl, as we do at the Alternative Ten Lakes & Sound of Music, 7 days. After a short break we continued along wonderful paths along the river Ischl to Lake Wolfgangsee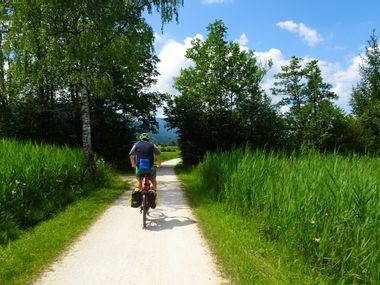 Here of course we had to pay a visit to the village of St. Wolfgang and so we took a break at the lake with a nice view onto the village, the lake glistening in blue framed by mountains on the other side and all that in perfect summer weather. A brilliant panorama inviting pure bliss and enjoyment! After this extensive downtime we were spoilt for choice, we could either take the boat for a short ride from St. Wolfgang to Lake Abersee, which was our Day Finish for today, or cycle nearly half way around the lake. Naturally we decided on the bike ride! Thus we cycled through Strobl and then via a disused railway track onto the peninsula to Abersee, accompanied this time by the view onto St. Wolfgang - this is a change in perspective! In Abersee we started looking for our partner hotel 'Aberseehof' situated slitghtly offside, but finding it was not a problem, since booked hotels are saved in our Eurobike-app and they can all be found effortlessly with the aid of a beeline.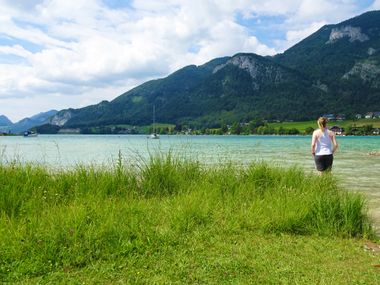 Since we were faster than the luggage transport on this particular day, we decided after the check-in to go to see the bathing place on Lake Wolfgangsee owned by the hotel and this turned out to be completely the correct decision. So we spread out our towels and enjoyed the panorama and the play of colours of the lake. Since the lakeside slants gently onto the water we dipped our feet in and then went for a swim. Although the water temperature was far off Caribbean temperatures, the colour however was just as amazing. A dream! The time passed very quickly and it was time for us to return to the hotel to be back in time for dinner. We enjoyed our meal in a lovely garden located behind the hotel. However we did not linger at the hotel, which was refurbished in 2014 and was really very beautiful, because for us the lake was a bigger attraction, so we spent the rest of the evening there until sundown.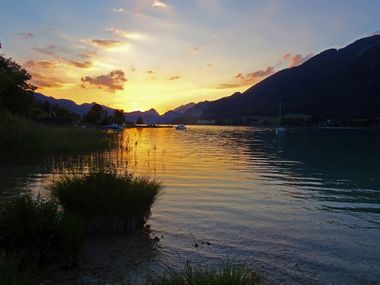 Day 4:
Lake Wolfgangsee – Lakes Trumer Seen
Nach dem Frühstück, wie soll es auch anders sein, fuhren wir zuerst nocheinmal zur Badestelle. Am späten Vormittag ging es dann mit den Rädern in Richtung St.Gilgen, wo unsere Gäste eigentlich immer die Wanderung zur Kühleitenalm machen und danach mit dem Rad in Richtung Salzburg fahren. Diese Etappe hatten wir jedoch einige Wochen zuvor erkundet und somit entschieden wir uns wieder in Richtung Mondsee zu fahren.
Um nicht die gleiche Strecke zwei Mal zu fahren, entschieden wir uns den Rückweg vorbei an der Drachenwand und Thalgau in Richtung Wallersee zu nehmen. Bei wiederum bestem Wetter machten wir eine Rast am See und fuhren dann am Nachmittag über Seekirchen zurück nach Obertrum, wo wir noch kurz auf unser Gepäck warten mussten, aber das tat unserer guten Stimmung keinen Abbruch. Zum Abschluss gönnten wir uns eine leckere Pizza bei unserem Partnerhotel "Entenwirt" in Seeham und somit war unsere viertägige Erkundungstour leider schon zu Ende!
To sum up, I would like to say that by bike I have come to know one of the most beautiful regions in Europe and look forward to many other expeditions in the coming years and am always happy to present a travel story about it.
Your Joscha from Eurobike.
AND HERE ANOTHER IMPRESSIONS