Enjoy authentic natural and cultural landscapes along the young Rhône, the wide valleys of Valais and the shores of Lake Geneva, surrounded by snowy peaks and vineyards, before reaching the cosmopolitan city of Geneva.
Arrival in Goms, the wide valley of the young Rhône, with its remarkable, sun-baked wooden houses.
The still young Rhone, called "Rotten" in Goms, flows through an authentic natural and cultural landscape. Pretty villages with beautiful baroque churches, Swiss stone pine forests, insect-rich flower meadows and the spicy scent of resin accompany cyclists through the sunny high valley.
The main Valais valley widens, the sun heats the dry mountain flanks. Between Leuk and Sierre, you deviate from the Rhône route and cycle through the vineyards to a winery. After a wine tasting, you continue to the castles of Sion.
The capital Sion shows off its historic castles, churches and stately homes. In the lower Rhône Valley, the Dents-du-Midi dominates the high-Alpine backdrop. It is the world of productive orchards and vineyards.
High above, a round tower guards Martigny on the Rhône bend, St-Maurice at the narrowest point in the valley guards golden church treasures. High mountains and lowlands, still hidden behind reeds, the expanse of Lac Léman, and then defiantly the fortress of Chillon Castle in the water.
Lac Léman, a small silvery sea surrounded by snowy peaks and the vineyards of the UNESCO World Heritage Site Lavaux. Along the shore: Vevey, Montreux and the metropolis of Lausanne, "Olympic city" and the lifeblood of the Vaudois population.
The open lakeshore becomes scarcer, the villas and yachts larger, and soon the cosmopolitan city of Geneva announces itself with boulevards and the 140 metre high water fountain "Jet d'eau".
Other variations of this tour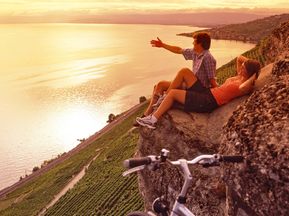 ©
Christof Sonderegger photoplus.ch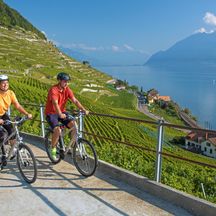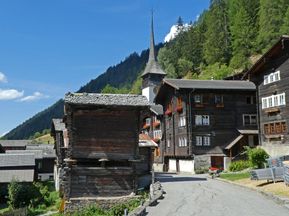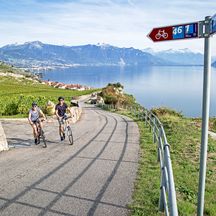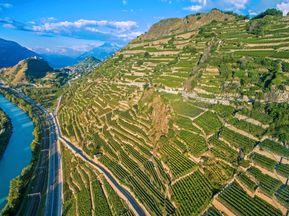 Somewhat hilly in the Goms, from Brig the route is almost completely flat and is also perfect for leisure cyclists. From Sion, you can expect a bit of a headwind. The ride through the vineyards of Lavaux is a highlight. Some traffic around the urban centres.
Category A: 4****- and middle-class hotels
Category B: middle-class hotels
Prices per person in EUR
Further details about this tour
Included
Accommodation in the chosen category
Breakfast
Luggage transfer
Detailed travel documents 1x per room (German, English)
App for Navigation and GPS-data
Service hotline
Arrival / Parking / Departure
Oberwald or Brig train station
Zurich or Geneva airport
Good train connection from Geneva to Oberwald or Brig
Notes
Tourist tax, if due, is not included in the price!
Further important information according to the package travel law can be found here!
This tour is a partner tour.

One call to vacation bliss
Monday - Friday: 09:00 AM - 05:00 PM
other tours

that might interest you