Explore the
beauty of nature

on two wheels
Many areas along the Lake Constance cycle path can be easily explored by e-bike, bike or mountain bike. The most convenient routes are along the shores of Lake Constance. Those who prefer to cycle over hill and dale should take the tour to the Appenzellerland. There, picturesque views of the imposing Alpstein massif compensate for the exertion. The e-bike takes you comfortably through the Rhine delta in Rheineck. It is an internationally significant nature reserve and a destination for nature lovers. It is also an important breeding and nesting area for birds – over 330 species of birds have been observed here. The flora and fauna impress with a multitude of rare species.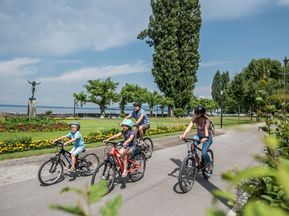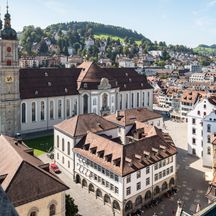 Hiking paradise

St.Gallen-Lake Constance
Forests, vineyards and lakes. In the four-country corner, between the lake and Säntis, in the St. Gallen-Lake Constance region, you'll find everything your heart desires. It is just waiting to be explored by nature lovers and day trippers.
Whether on foot or by bike, there are many ways to enjoy the landscape. Eastern Switzerland is known as a hiking paradise. The number of routes and paths is almost unlimited.
For those who like to be comfortable, the paths along the idyllic shores of Lake Constance are suitable. A stroll along the Rorschach lakeside promenade is particularly popular. From the centre, where there are stately town houses, among other things, visitors can stroll to the historic bathing hut.
In summer, a dip in the water or a boat trip provides cooling and refreshment.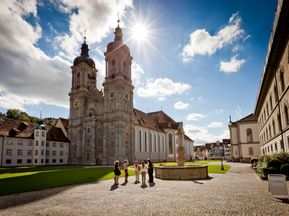 Walking through the
vineyards
How about combining a hike with culinary highlights? Then the wine and hiking trail is recommended. The three and a half kilometres through the Bernecker vineyards not only offer magnificent views, it is also educational and varied.
On the way, hikers learn everything there is to know about working in the vineyards. There are also numerous opportunities to taste the Rheintal wines in restaurants and cellars.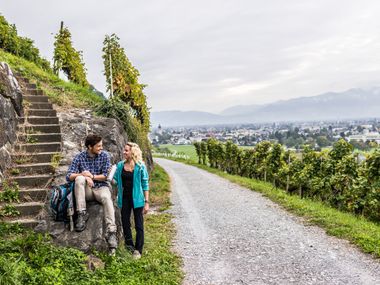 ©
Schweiz Tourismus / Mattias Nutt Photography
You can find more exciting information and tips on the most beautiful tours in the region here at st.gallen-bodensee.ch!