The cabins

of the MS SE-Manon
As I said, comfort is very important on the MS SE-Manon. The ship's 75 outside cabins are all approximately 14 m² in size and equipped with cosy hotel beds. They all have a shower/toilet (some cabins have a bathtub), hair dryer, TV, safe, telephone, minibar and air conditioning. The cabins on the upper deck have a French balcony with windows that open all the way to the floor. The panorama windows in the cabins in the middle deck can also be opened. The cabins on the main deck have smaller windows which cannot be opened.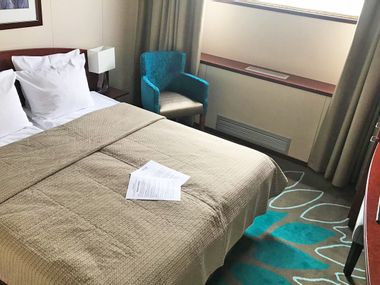 The deck plan

of the MS SE-Manon
The cabins on the upper and middle decks can be reached by lift!
The restaurant is on the middle deck, all other public areas are on the upper deck.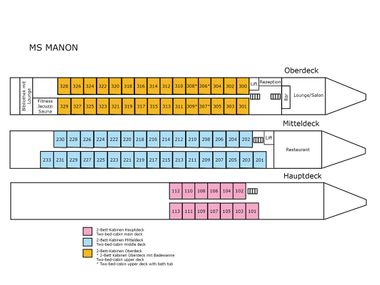 The
public areas

of the MS SE-Manon
Hardly any other ship can offer you such a leisure offering as you will find on the MS SE-Manon. So it is up to you whether after your cycle tour you use the small but fine wellness area of the ship with sauna, fitness equipment and jacuzzi, take a swim in the outdoor pool, read a good book in the library, sunbathe on the sun deck or relax in the panoramic restaurant. Boredom is not an issue here.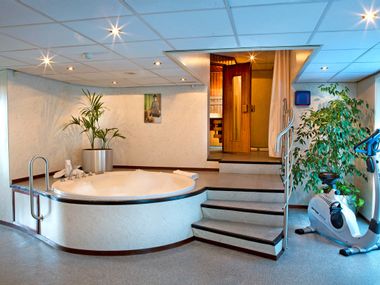 Technical data

of the MS SE-Manon
Length: 110 m
Width: 11.40 m
Depth: 1.50 m
Capacity: max. 150 passengers and approx. 30 crew members
Year of construction: 1999
Renovation: 2019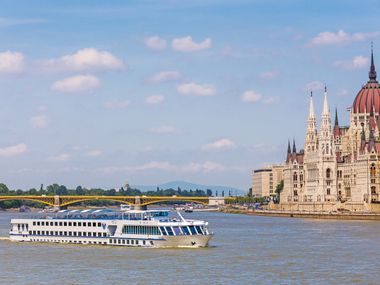 ©
All images are copyright of Saga Group Limited. Images may only be used with the company's express permission and solely for t
Bike & Boat tours

aboard the MS SE-Manon