Cycle through the Thuringian Basin to Mühlhausen, the city of gates and towers. The gardens in Bad Langensalza enchant not only botanists, and in the impressive city of Weimar, you can walk in the footsteps of Goethe, Schiller, or Liszt.
An early arrival is worthwhile, because the Wartburgstadt Eisenach awaits you with its wonderful city center, museums, Wartburg, Lutherhaus and churches. All the sights tell of the interesting history, the personalities and legends of the city. Your quiet start to your cycling tour through the Thuringian Basin!
You begin your cycling trip through the Thuringian basin on the Werra Valley cycle path. You cycle through the wildly romantic gorge cut by the Werra, past the Treffurter Normannstein castle. Finally you will cycling on flat paths to Mulhouse - the city of gates and towers. Or you can cycle a shortcut directly to Mühlhausen.
Today you touch the geographic centre of Germany on the gate to nature park Hainich. Bad Langensalza is circumvented by an almost completely preserved fortification wall and historic old town. Continue on Unstrut cyclepath into the capital Erfurt with the medieval old town.
Cross the bridge Krämerbrücke which is unique in Europe, the longest bridge that is completely covered by buildings that are still lived in. Continue your tour through farmland, via Thuringian City Trail to Weimar. The great city of German cultural heritage is 1000 years old. Great names are connected with Weimar: Goethe, Schiller, Herder, Cranach, Bach, Liszt and many more.
Today you will make a detour into the wonderful Weimarer Land: you will leave Weimar in a northerly direction on the Ilm Cycle Path. Again and again you will have the opportunity to get off your bike and take a break in a shady park or a romantic castle dock: Tiefurt Castle - the country residence of Duchess Anna Amalia -, Kromsdorf Castle or the Wieland Estate in Oßmannstedt are just a few of the highlights of this tour. Plan a little more time in Apolda, the city of bells and art.
On the very well developed Ilmtal cycle path you glide through the Thuringian Forest and Stadtilm. Continue cycling to Arnstadt – the "doll's town" enchanting and with a 1300 year long history
Adventure bike tour! This is the new Bach Cycle Adventure Route. It takes you to places and landscapes that shaped the childhood and youth of one of Germany's greatest musical talents. His first place of work was Arnstadt, where the young Bach received his first job as an organist.
Today you cycle through Thuringian regin of fortresses! Of special interest is the ensemble of three fortresses "Drei Gleichen". The legend had there once a globe lightning incinerated all three fortresses in one go. The bright flames were widely visible and left three mysterious ruins with scenic views across the Thuringian basin. Continue along the Thuringian City Trail to Esenach.
Other variations of this tour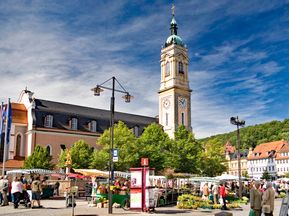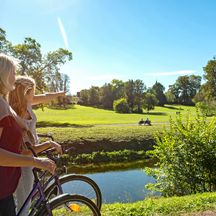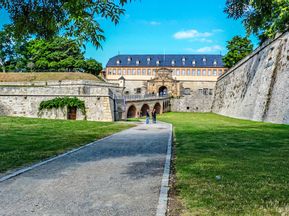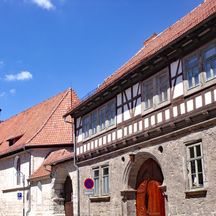 ©
Cindy Michael Tourismusinformation Mühlhausen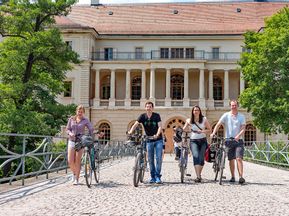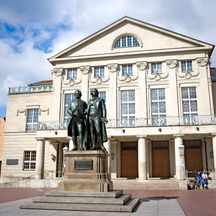 ©
Weimar GmbH, Guido Werner
Usually well-developed cycle paths, or little frequented side roads, with hilly sections. Only at the entrances and exits of the townships can traffic be expected to increase.
Category: 3***- and 4****- hotels and guest houses
Prices per person in EUR
Further details about this tour
Included
Accommodation as already mentioned
Breakfast
Luggage transfer
Detailed travel documents 1x per room (German, English)
GPS-tracks
Service hotline
Arrival / Parking / Departure
Eisenach train station
Erfurt or Weimar airport
Closed car park at the office of the operator, this costs approx. EUR 5 per night, no reservation possible
Public multi storage car park in Eisenach, this costs approx. EUR 9 per day, no reservation possible.
Things to note
Tourist tax, if due, is not included in the price!
Further important information according to the package travel law can be found here!
This tour is a partner tour.
Other tours

that might interest you