A
dream tour

takes its course
Goethe knew: "Why wander far and wide when good things are so near!" That's what the two company founders Herbert Würtinger and Walter Schmid thought when it came to launching the first cycling tour under the Eurobike brand. Initially they only arranged partner tours, but in 1993 - one year after founding the company - they needed a product of their own that would make Eurobike stand out as a cycle tour operator. And they found all the ingredients for a recipe for success right on their doorstep in the Salzkammergut region, which has lost none of its appeal even after 30 years. An incredibly beautiful landscape with picturesque lakes and the surrounding mountains as a unique backdrop. Add to that enchanting places full of history like Hallstatt, Bad Ischl, St. Wolfgang and the Mozart city of Salzburg. Herbert and Walter knew the region and its advantages very well and knew how to connect the lakes via a fantastic cycle tour.
The lake as a sought after destination
But the number one seller was clearly the lakes. Most Eurobike guests came from Germany and Switzerland where lakes had a very good image. Because they stand for enchanting nature, beautiful weather and flat, even cycling routes. Herbert and Walter had therefore cleverly chosen the tour name. The "Ten Lakes Tour" sold magnificently from the very first moment. Suddenly everyone wanted to book this cycle tour.
A bestseller was born
In its heyday, the Ten Lakes Tour attracted around 2,000 guests per season. "This cycle tour quickly made us very well known, and is still one of the most important Eurobike products," recalls Herbert Würtinger. At that time, we offered the tour mainly as a group tour including a tour guide. Some dates were so heavily booked that we had to do the tour twice, staggering the stages. And what could be better than looking at the happy and enthusiastic faces of our guests after each tour?
In 30 years of success, the highlights of the Ten Lakes Tour have changed very little. After all, the landscape, nature and sights are simply timelessly beautiful. Of course, one important change has also shaped our Ten Lakes Tour: the construction of cycle paths with signposting. In the 1990s, there were hardly any dedicated cycle paths and no signposts for cyclists. You rode on country roads, forest tracks and had to find your own way. As more and more well-developed cycle routes emerged, we adapted our route guidance and were able to integrate destinations into our journey that were previously difficult to reach by bike. For example, today our guests cycle comfortably from Lake Wolfgang to the Fuschlsee - new great impressions included.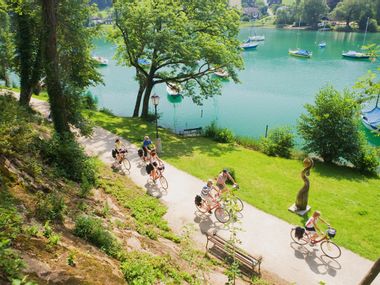 From the guided group tour…
When there were hardly any signposted cycle paths, the tour guide took over the route guidance. That's why our Ten Lakes Tour used to be mainly sought after as a guided group tour. The tour guide not only knew the route very well, but also chatted about places of interest, gave tips on where to stop for refreshments and where to find the most beautiful viewing spots. Of course, our top-organised luggage transfer from hotel to hotel distinguished us even then. Always a highlight on the group tours: a picnic in nature. A richly laid table with regional delicacies awaited the Eurobike guests. Not infrequently, there were even tasty barbecue dishes.
... to the individual single tour
With the emergence of the cycle paths, we not only had to adapt our route guidance, but also our travel documents. In the beginning, we had loose A4 sheets with information about the tour, the route, the sights and departure times - at that time we usually had a tour guide with us - but later our guests received a detailed route book. Since the trend was moving more and more towards individual tours, the travel documents started to contain all the tips and information about the tour. So today you will find detailed route information, well-developed route descriptions, valuable tips, insider knowledge and recommendations in our comprehensive travel document package. We also have our eye on the future: In our Eurobike & Eurohike on Tour-App you will also receive all travel information digitally for your smartphone.
In 30 years of Eurobike, we have welcomed around 50,000 enthusiastic cycling guests to the Ten Lakes Tour. And the success story continues. The Ten Lakes Tour is still one of the most popular Eurobike cycle tours today. It is now available in different formats such as a sporty tour, as a charm variant with select hotels or as a family tour. Whichever variant you choose, the Ten Lakes Tour with its picturesque landscapes, crystal-clear lakes, magnificent mountain scenery and charming little towns will delight you.
Finally, our product manager Andi, who has known the Ten Lakes Tour for many years, tells us his absolute highlight of the tour: the ride on the historic steam railway from St. Wolfgang up the Schafberg. Because from up here you simply have a breathtaking view over all ten lakes!