My career

& more about me
1998 – 2005: Master's degree (German Studies, Sociology and Marketing) at the University of Jena and work stations at RTL, BILD and in the travel department of BILD online
2006 – 2021: Work stations as an advertising editor at DER Touristik in Cologne, as an online editor at Berge & Meer Touristik in Koblenz and as a content manager at Ahr Valley Tourism in Bad Neuenahr-Ahrweiler
Since 2009: Social commitment at the McDonald's Children's Aid Foundation in full-time and honorary position
December 2021 – April 2023: Marketing and content editing at Eurofun Touristik in Obertrum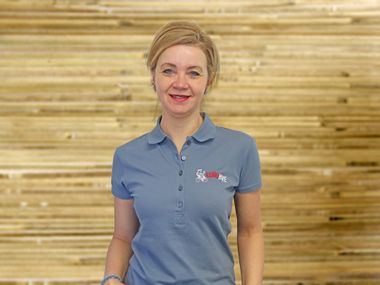 What
else

is there to tell?
In my free time …
… I enjoy being out and about in nature – alone, as a couple or with family and friends. It doesn't matter whether it's a hike in the mountains, a bike ride along the river or a walk across meadows and fields: I just love to enjoy the beauty of nature with all its facets.
My favourite things to read …
… interesting travel guides that awaken my spirit of discovery and exciting fantasy novels that take me to other worlds.


My perfect day …
… begins with a leisurely breakfast outdoors and plenty of time. Then the hiking backpack is packed and off we go into the mountains. The highlights are wonderful views views along the route and a long break in a rustic mountain hut. If the tour is then crowned with a great sunset and the evening ends around a campfire, the day is perfect all round.


Travelling and other countries …
… are the best way for me to be free! For me travelling means leaving and coming home at the same time. Exploring the world – on my doorstep, around the corner or far away – is something that inspires me, makes me feel alive and I just can't get enough of it.


My favourite travel destinations …
… are (almost) everywhere where there are mountains. Because mountains mean home to me. A tour through the wild mountain scenery inland on the island of Grand Canaria, the view of Cape Town from Table Mountain or a hike around Mount Matterhorn in Switzerland are among the holiday experiences that I will never forget. But it doesn't always have to be mountains. A day at Disneyland Paris lights up my eyes just as much.


My most recent trips …
… were a road trip with a campervan through Luxembourg, a motorcycle tour through the most beautiful landscapes of the Eifel, a hiking holiday in the beautiful Allgäu Alps around Obersdorf and a cycling and hiking holiday on the river Moselle – for me one of the loveliest regions in Germany.


Happiness and contentment for me means …
… to perceive the many small wonders of life: a romantic sunset, an unforgettable view from the mountain peak, the rustling of treetops in the wind, the warm rays of the sun that tickle your skin while cycling, the crackling of wood at the campfire.


Writing for me means …
… a passion that has accompanied me my whole life and a wonderful way for me to express emotions.


All blogposts by Saskia Neumann