Short and sweet:
SOS tips for a smooth cycle tour
Check your bike before the tour! A bike alone is often not enough for a smooth ride. Not only the tyre pressure and chain should be checked, but also the accessories.
In addition to well-padded cycling trousers for more comfort in the saddle, the right helmet, gloves and glasses are also important. You should always wear glasses to protect your eyes from glaring sunlight and unwanted insects.
Service-Kit Emergency kit

and enough liquids
The most important item: An emergency kit with repair kit and bike pump should always be carried by a well-organised cyclist. It is best to read our instructions on how to replace or mend a bike tyre tube yourself in case of an accident. Nowadays, a long break away from mobile phones is inconceivable. Therefore, mount a smartphone holder onto the handlebars. So you'll always have your phone at hand and, if necessary, you can also view the route.
In addition a water bottle should be within reach. It is best to mount the bottle holder in the wheel frame. Here are a few more tips for cycling in the heat.
Tip: If space allows, attach two bottle holders at the same time.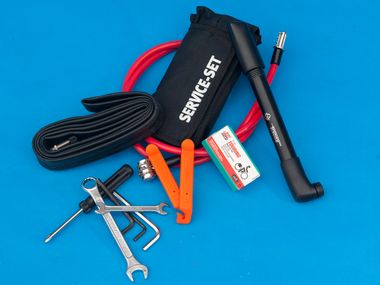 A top tip to ensure you're prepared for emergencies is to carry a first aid kid. Small lacerations, blisters or abrasions can then be treated quickly.
To keep energy levels up, also pack a snack pack. Pack high-fibre foods and possibly a banana. This will prevent muscle spasms and fatigue.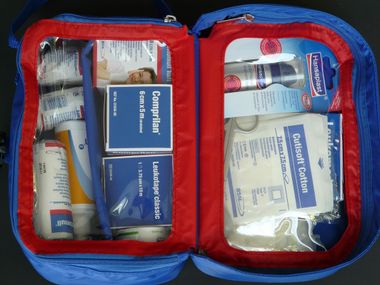 Take a
look at the route and weather forecast

in advance
Once you have checked your bike and packed the essentials, you are almost set. Before you set off, however, you should be familiar with the route and weather forecast. Done? Perfect! Then quickly pack your rain jacket in your backpack, just in case, and of you go on your cycle tour.
For e-bike lovers: do you cycle with support? Then make sure your e-bike battery is charged and find out if there are charging stations along the route.