The
Eurobike-Team

in Bolzano
Stefano Mancinelli is the station manager at the 'Radzentrale' Bolzano. A total of ten other staff members responsible for equipment maintenance and travel documents are already working there. Furthermore, there are 'regional advisors', for instance in Reschen, on Lake Garda and in Venice, so that a contact person is available to you with advice and action in all corners of the region. In addition to Schärding bike station, Bolzano is one of the largest Eurobike bike stations – seven buses are in operation every day and ensure that luggage, bikes and the occasional exhausted guest get from place to place.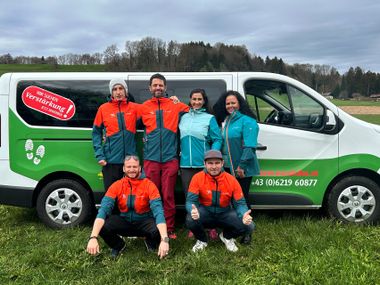 Beginnings of the Bolzano bike station
The Eurobike bike station in Bolzano has existed since 1994. Initially when the tours in South Tyrol were still in their infancy, bikes and cycling equipment were accommodated in one of our partner hotels. The Bolzano bike station as we know it today has existed since 2016. A place where ten employees, up to 800 bikes and lots of bike equipment now feel at home: A large meeting room has been set up for tour information, some of which are also held in the bike station.
Tasks of the Bike Station
Everyday life is very varied. First and foremost the customers are personally looked after on site. Ricardo and his staff always have an open ear for our cyclists and of course in addition one or the other insider tip regarding the individual tours – after all, they know the area. The guests' luggage has to be transported from A to B every day and the travel documents have to be prepared in detail. The welcome and handing out of bikes happens on a personal level in order to adapt them to individual needs. Always with us during the cycling season is the service phone for our guests who are currently on tour.
Facts

about Bolzano Bike Station
Station manager: Stefano Mancinelli
Staff: 10
Bikes: 800
E-bikes: 280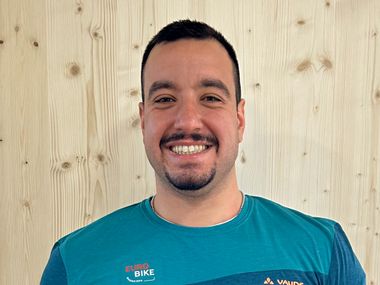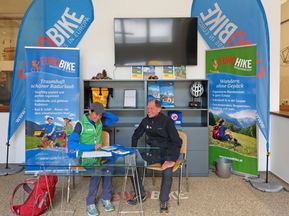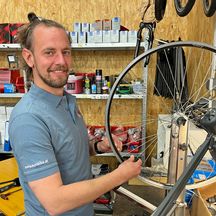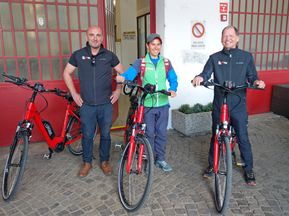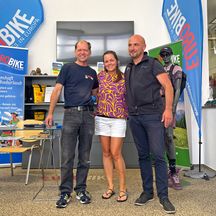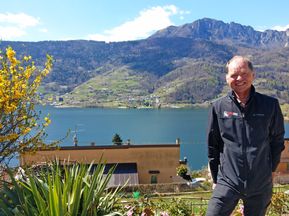 Cycle holidays
supervised

by this station
The Bolzano bike station is our headquarters for Northern Italy: all cycle holidays between Innsbruck and Venice are organised from here. So once across South Tyrol to the Adriatic Sea. This too is the route of our original Eurobike holiday from Bolzano to Venice. You cycle over the hills of South Tyrol towards the floating city of Venice. The motto on this breathtaking and varied tour is 'Experience and enjoy'! Experience the impressive natural scenery and enjoy a delicious pizza with a glass of red wine in the evening.
Other Cycle Holidays in South Tyrol
We are happy to provide you with further info regarding our cycle holidays in South Tyrol. You can rely on us on site and count on perfect and personal on-site support!
So that you can enjoy your cycling tour carefree, Eurobike offers you perfect organisation and support on site. Our station staff will take care of welcoming you, handing over your travel documents, customising the rental bikes, transporting your luggage and many other tasks.