Sporty morning

despite bad weather
When we arrive in Obertauern, the weather is unfortunately not on our side. This year it is cloudy and snowy. But we don't let that spoil our good mood! The skiers are motivated to hit the slopes and our winter hikers also set off full of anticipation. After a sporty morning, our meeting point at lunchtime is the beautiful Kringsalm. There, hikers and skiers meet again for lunch together and delicious dishes await us in the cosy snuggery.
After an extended lunch and good conversation, it's off to the slopes again, or rather to the hiking trails. For those who had already had enough of the sporting activities in the morning, they went straight from the Kringsalm to the après-ski at the Lürzer-Alm. Whatever the choice, we can definitely say with a clear conscience that everyone got what they wanted and enjoyed the day to the full.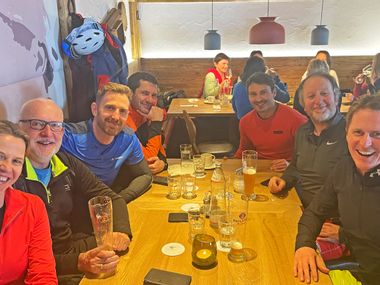 This year, our winter sports day was once again a complete success! Tired, but in a good mood, we make our way back to Obertrum in the evening. Both hikers and skiers had fun and are happy about the successful day. The Winter Sports Day 2024 is still a long way off, but we can hardly wait to hit the slopes again with our colleagues.
Mehr Eurofun-Teamaktivitäten