My career

& more about me
After graduating from school, I decided to spend a year abroad with stays in Spain, the USA and France before I moved to Salzburg to study psychology. Already during my studies, I was able to gain experience as an editor of a gadget blog and have been running my own website on the topic of mechanical keyboards since 2020. After a station in retail at an Apple reseller, I have been working as a content editor as well as junior SEO consultant at Eurofun Touristik since the end of 2022. Due to my passion for cycling and my fascination for foreign cultures and languages, I have found exactly the right place here. I can actively incorporate my personal interests and hobbies into my daily work.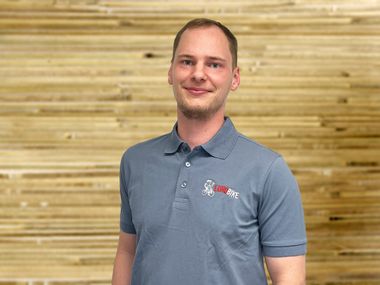 WHAT ELSE IS THERE TO TELL?
In my free time ...
I enjoy riding my mountain bike, preferably in the mountains.


My favourite things to read ...
are self-development books and (fantasy)-novels.
My perfect day ...

starts with a hearty breakfast. Then I jump on my mountain bike and go on a tour. Alternatively, I also like to be out and about in a larger city, such as Vienna. When I return in the afternoon, I get some rest before heading out for dinner. I end the evening with a walk, a book or a film.


Travelling and other countries ...
fascinate me time and again and help me broaden my horizons.


My favourite travel destinations ...
Vienna is always worth a visit. Otherwise, I enjoy going where I have the option to ride nice routes with my mountain bike, but I can also get something out of a city trip.


My most recent trips ...
were some short trips to Vienna, before that a holiday in Miami and on the West coast of Florida.


Happiness and contentment for me means ...
to be at peace with myself and live in the here and now.


Writing for me means ...
allowing my creativity to run free and to record my experiences. For me, writing is also an important tool for reflecting, organizing and processing experiences.


Sea or mountain?
Mountain
Pizza or pasta?
Pizza
Winter or summer?
Summer
Reading or Netflix?
Reading
Running or cycling?
Cycling
City or countryside?
both
Elevator or stairs?
Stairs
Dog or cat?
Cat
Travelling or staying at home?
Travelling
Heart or head?
Head
All blogposts by Michael Lautenschlager