Admittedly, such a family cycle tour does require some flexibility and planning, but for that our travel specialists are at your side with many years of experience and a lot of knowledge! The individual stages of our family tours are planned so that you can take many breaks, to cater to the needs of the little ones as much as possible during the adventure. We create the framework for your family holiday through booking the hotels and organising luggage transfers. The rest is up to you and your children, leaving enough room for surprises along the way, spontaneous experiences and personal memories.
Individual bike tours

with Eurobike
There are a wide variety of ways to go on holiday with children - depending on their age - safely by bike. For babies and smaller children, a trailer with good suspension is the ideal choice, then they are protected from the wind and weather on the individual stages and can even take a comfortable nap during the journey. Securely strapped in, clutching their favourite teddy, little co-pilots can enjoy the adventure and have lots to see on the way.
A child seat is a good addition to a trailer and offers a welcome change. If you start the first stage in the morning well rested and full from breakfast in the bike seat, you can switch to the trailer later when the sun gets stronger or a nap is needed. A small negative: If you use a child seat you cannot mount a saddle bag.
For bigger kids, who can already pedal themselves but could become tired on longer stretches and need support, the perfect solution is using a quality tandem hitch. Here the child's bike is quickly attached to the bike of the parent without tools. This makes it easy to negotiate a passage in hilly terrain, for example. This follow-me solution works with children's bikes from 12 - 20 inches, i.e. from about 3 to 9 years.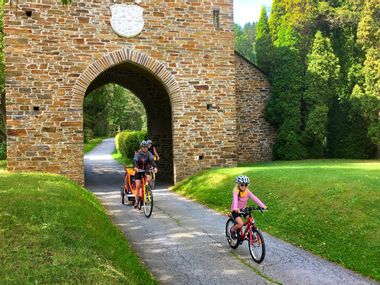 Family-friendly

with the fun factor
Our routes and the length of the sections have been tested many times and specially adapted to suit the needs of children. We know that the tranquillity and peacefulness of an idyllic river trail is often pretty booooorinig for kids! But the prospect of a fun water play area or a tasty scoop of ice cream motivates even the smallest cyclists or co-pilots into first gear! Especially during the midday heat, cycling is often not so much fun, so you quickly find a shady spot for a little picnic or a bathing spot to cool off a bit. Some stages are combined with a train ride or a ferry crossing, such as on the Danube Cycle Path for Families from Schärding to Linz - a highlight for kids! And once you reach the day's destination, there are lots of opportunities to have fun together in the accommodation and the surrounding area!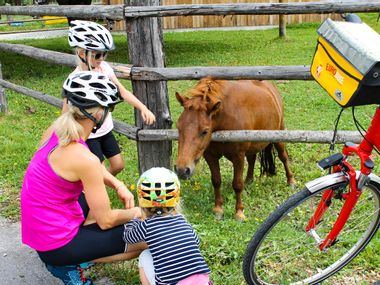 A cycle tour for
beginners
On the road in the Salzburg lake district
The short holiday like our Ten Lakes for Families cycling tour is perfect for parents and children who would like to try a tour together for the first time. The Salzburg region is particularly varied in summer, whether that's following in Mozart's footsteps or taking a dip in a cool lake. A high point of the tours is beautiful Salzburg, where there are many highlights for big and small and where modern art can be discovered and explored in many corners in a child-friendly way. The individual, relatively short daily tours lead over good paths through natural landscapes, natural floodplains and moorland - with the Alpine panorama always in the background. Along the route there's much to explore for little adventurers, often cosy loungers invite you to take a break and you can hear the ringing of an ice cream van nearby! And in the Lake District, of course, everything revolves around water. There are countless outdoor pools and natural bathing beaches that offer relaxation, recreation and family-friendly bathing fun for the big and small cycling holidaymakers.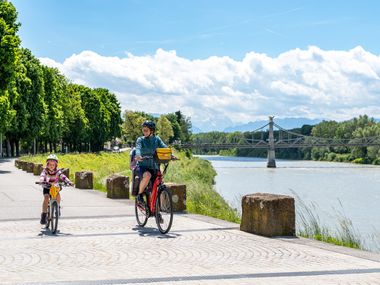 The feeling of Italy

for big and small
Explore South Tyrol by bike
South Tyrol for families – another tour that is both charming and varied. We are sure that North Italy will impress big and small holidaymakers with its picturesque landscape, mountains and charming towns. Embedded in the impressive mountain landscape you feel the Mediterranean influence and can enjoy the warm breeze that blows around your nose when you pedal hard. The tour begins in Merano, a small Mediterranean town with a special atmosphere, that captivated Austrian Empress Sisi during her lifetime. Individual stages of the tour are combined with train travel, which little guest particularly enjoy and so on the very first day of cycling you take the Vinschgau Railway up to the Reschen Pass. As you cycle through the lush apple orchards and vineyards, you are sure to work up an appetite for the famous delicacies of the region. Little ones with a sweet tooth should definitely try the "Apfelkiachl" and for adults we recommend a tasty Brettljause, which is called "Marende" here, to get your strength back in your calves. Our excursion tip: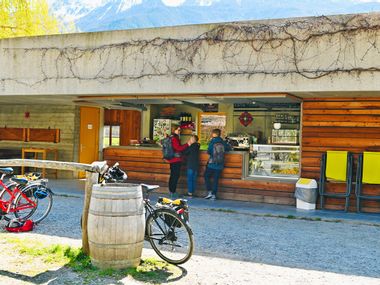 The
journey is the destination
If you decide to go on a cycle tour with your family, you are definitely spoilt for choice with our wide range of options. Perhaps a report from our colleague Gudrun, who explored the Drau Cycle Path with her family, would help? Why this beautiful cycle path is a real alternative to the well-known Danube Cycle Path and a clear tip for all families looking for a varied river cycle path, you can read in the travel report Drau Cycle Path for Families.
But no matter which tour you choose; we guarantee that the unforgettable moments and stories will bring the family even closer together and bond.