Fragrant sea air and
playful dolphins
Put your nose into the wind and smell the magnificent Atlantic Ocean, feel the pleasant sun on your skin, watch the friendly dolphins play in front of an old lighthouse and hear nothing but the sound of the mighty waves breaking on the rugged coastline. A cycling holiday in Brittany in France will restore inner peace and recharge your batteries for everyday life. Get on the pedals and let the Breton world roll past you as you capture as many beautiful impressions as possible.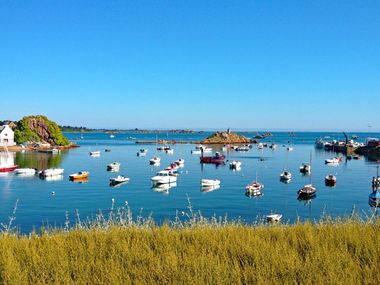 Our
most beautiful cycle tours

in Brittany
Brittany
There's a reason why our cycle tour in Brittany is one of the pearls in France: start in Rennes and head for the Atlantic coast. Bring great impressions of authentic France home and look forward to carefree cycling in Brittany.
Atlantic Coast I
Between Nantes and La Rochelle you will experience a lot. Pass by beautiful beaches, delightful fishing villages, aromatic woodland and traditional Breton houses – while always with one eye on the ocean.
If this sounds like your next cycling holiday, then please click here to get all the information about the cycle tour Atlantic Coast I.
Questions and answers

about your cycling trip in Brittany
Sorry! No FAQs were found. Please try again with a new search term.
We offer these individual cycling tours with luggage transfer in Brittany:
As the landscape of Brittany is sometimes somewhat hilly, our tours in this region are classified as tour character "medium" and "challenging". This means that they are aimed at cyclists with good basic fitness or some experience. However, if you are unsure whether you can manage the tour, you also have the option of renting one of our e-bikes.
Due to its proximity to the Atlantic Ocean, seafood and fish of all kinds are among the culinary highlights of Brittany. But crêpes are also very popular in this region.
The best time for a cycling holiday in Brittany is from March to October. While temperatures are mild until October, the heat can often exceed 30 °C in July and August.
Useful information

about your cycling holiday in Brittany
Brittany offers a total of almost 2,000 km of cycle paths, almost all of which are car-free and some of which run along one of the many canals. Along the canals, the cycle paths are naturally quite flat, but away from them, they can be a little hillier and thus more challenging. Whether mountainous or flat, the extraordinary landscape naturally always remains in view.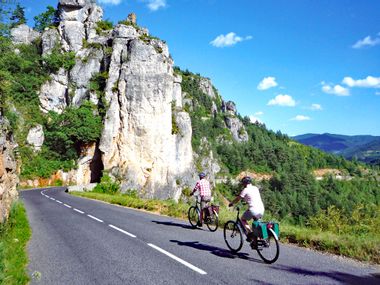 The climate in the peninsula of Brittany is well known in France for being characterised by very high humidity and rapidly changing weather. This fast change in weather results in beautiful light effects and a play of colours. But it's also why the weather in Brittany is difficult to generalize. The north coast of Brittany is a bit rainier and cooler than the south coast. The climate is characterised by the Gulf Stream, so mainly mild temperatures prevail.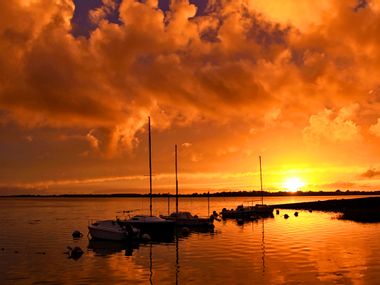 The Atlantic undoubtedly influences Breton cuisine above all else. Fish, seafood and seaweed are an integral part of Breton cuisine. However, the most famous dish in Brittany has a sweet character. Crepes – the deliciously thin pancakes with sweet fillings are eaten in some form or another all over the world. Definitely try the famous Oysters from Cancale, the famous scallops and excellent cider from Brittany. Another speciality that forms the base of many dishes is the sea salt flavoured butter.
…that Brittany is called Breizh by its inhabitants?
…that there is a savoury opponent to crepes? So-called Galettes are made from buckwheat flour and filled with savoury items.
…that the Bretons make their own cola? The Breizh Cola is extremely popular in this country and doesn't taste too bad!
…that the stories about Asterix were set in Brittany, as the artist Albert Uderzo lived here temporarily during the Second World War.
…that almost every French lighthouse is in Brittany?
…that the cosmetics guru Yves Rocher was mayor of a Breton village for almost 50 years?

I am looking forward to your requests, wishes and suggestions!
One call to vacation bliss
Monday - Friday: 09:00 AM - 05:00 PM
More
cycle destinations

in France