Tapas

– small

delicacies

to suit every taste
But now we come to one of the most important reasons why you should get on a plane to Mallorca – the stunning Mallorcan cuisine. If you want to eat well in Spain, there is no getting away from tapas, because the little delicacies simply offer something for everyone. Translated, the term tapas means something along the lines of lid or cover. According to legend, the landlords in Spain used to cover their guests' glasses of wine or beer with a slice of bread when serving and weighed it down with a few olives. They wanted to prevent annoying flies from entering the wine. That was the birth of the famous tapas. But there are other theories about the origin of tapas. For example, it could also have been an ulterior motive that it increases sales if you sell a few salty canapes with wine. Even today, tapas are mainly served in tapas bars and enjoyed standing up. In addition, beer or full-bodied wine is usually drunk.
The most popular mallorcan tapas
Tapa de Tortilla
an omelet made from eggs, potatoes and onions, famous all over the world for good reason!
Patatas bravas
crispy baked potato cubes in a fiery hot tomato sauce – a pleasure!
Albóndigas
the scent of these flavorsome meatballs makes your mouth water from far.
Croquetas
soft on the inside and fried crispy on the outside, the delicious croquetas delight almost everyone. Whether filled with meat, poultry, fish, seafood or vegetables, you can't go wrong with croquetas.
Cold tapas
Serrano ham, chorizo, Manchego cheese, the best olives, pimientos…to name just a few.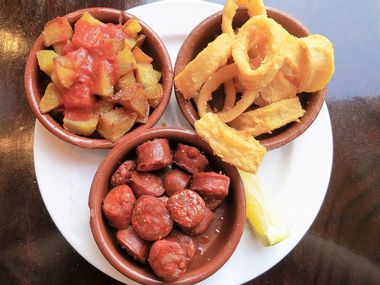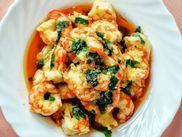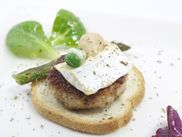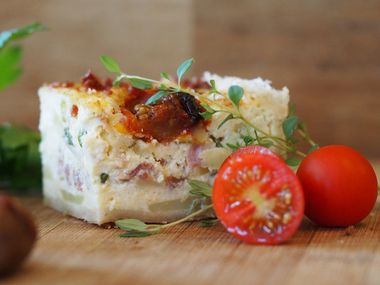 Empanadas

– the

dumplings

your stomach will love
Empanadas are a specialty that is not only available in Mallorca, but almost all over the Spanish-speaking world. Every region and country has developed its own recipe. The Spanish empanada is probably the original form, as it was mentioned in historical documents as early as the 12th century. The Mallorcan empanada was originally a specialty that was only baked at Easter. As you can imagine, this is a dish of the heart that was, and still is, prepared with a lot of love by a grandmother for her grandchildren. But of course, you can also buy these hearty yeasted dough pastries in good bakeries. The filling comes in a wide variety – for example with minced meat, fish, poultry, seafood, vegetables, mushrooms and sausage. Handy and incredibly tasty, the Mallorcan empanada is the perfect snack between meals. Whether cold or warm – an empanada always tastes good!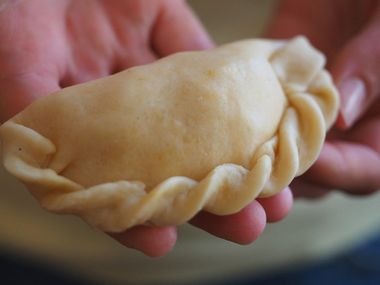 Tumbet

- the

aromatic

summer dish
The dish will delight the vegetarians among you, because it only consists of fresh vegetables and is very popular, especially at the summer harvest time. Potatoes and aubergines form the basis of this casserole dish. There are also peppers, sometimes zucchini, but especially tomatoes and plenty of garlic, which you cook down together to form a thick sauce, then put it into a clay pot together with the rest of the vegetables. The dish is then braised in the oven. The focus here is on the taste of the vegetables. Tumbet is often eaten with bread, or as an accompaniment to meat or fish. The taste is simple, honest and pure. Please try it!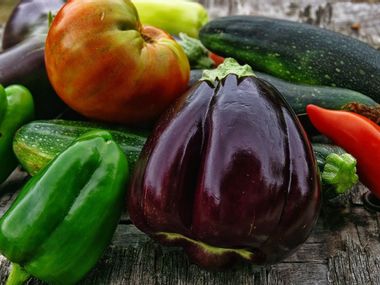 Arroz brut

–

simply delicious
This dish is arguably the Mallorcan answer to the Spanish paella. However, it differs noticeably from it in a few ways. Translated, Arroz brut means something along the lines of dirty rice. And Arroz brut actually looks dirty next to a bright yellow paella. Another important difference is consistency. The Arroz brut is much more liquid than paella, sometimes almost like a soup. The ingredients vary from family to family. What tastes good is allowed in! In any case, there are always different types of meat, fish and seafood that, along with rice, make up the main dish. There are also vegetables such as green beans, tomatoes, peas and onions. The dish is seasoned with broth, garlic, saffron, salt and pepper. A dish for the stomach and the heart!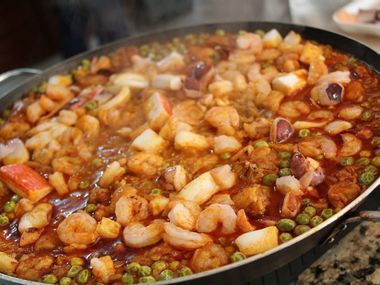 Buen
viaje

y buen

provecho

!
These dishes are just a tiny selection of the diverse cuisine of Mallorca. Can you already imagine what it would be like to stop off at a small bodega during a break from cycling? Can you already smell the aromatic spices, the hearty dishes and the ripe fruit along the cycle paths? Are you looking forward to a glass of full-bodied red wine? Then you are definitely ready for a holiday! We wish you a wonderful, unforgettable and, above all, safe cycle tour and a healthy appetite!
Your Eurobike Team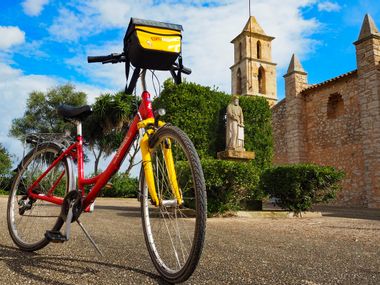 More
culinary cycle tours