Friuli – a
paradise

for

cyclists and foodies
Friuli-Venezia Giulia is not only a popular destination for German-speaking tourists because of its geography – the tours have everything you could want from a successful cycle tour. They are varied, lead to interesting stage locations, have the sea and also have lots to offer in terms of landscape. Our tours along the Alpe-Adria Cycle Path, the Friuli tour based in two hotels, and of course our cycle tour from Venice via Trieste to Porec are particularly popular Be impressed by the beauty and the culinary ingenuity on the popular cycle tour region Friuli-Venezia Giulia!
Polenta

– the porridge that is not only good for babies
So simple and so good – Polenta is an indispensable part of Friulian cuisine. It is one of the oldest dishes known to man and consists of only a few ingredients. Polenta used to be considered 'food for the poor' because it was a cheap yet nutritious dish. In ancient Rome, polenta, then called pultem, was made from ground spelt and was one of the staple foods of the Roman people. Only with the discovery of America was spelt replaced by corn. Others suspect that corn came to Europe from Persia. What is certain, however, is that the Friuli region, through its trading ports, was the first region in Italy to have corn and prepare this dish. The corn kernels were stone ground then slowly boiled in water. If there was something to celebrate, the thick porridge was cooked, but it has been adapted a little to become what we know today. Especially in Friuli, people are very good at preparing polenta and refining corn. Polenta is cooked here, but also baked, deep-fried or grilled and enriched with mushrooms, cheese, cream, sausage, fish and meat. The simplest dishes can often be the tastiest. Taste it for yourself!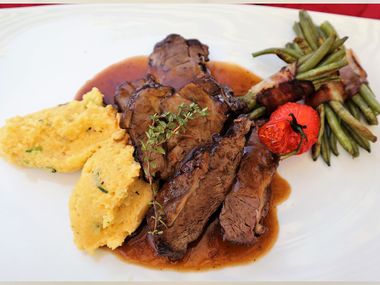 Prosciutto

di San Daniele – the most famous

ham

of the region
The little brother of Prosciutto di Parma is making a name for itself. Many even prefer the sweet and milder taste of the Friulian ham than the strong, aromatic ham from Parma. The dry air from the Alps and the warm, humid air of the Adriatic create an ideal environment in San Daniele del Friuli for drying and maturing this popular ham. Prosciutto di San Daniele has been delighting Italy and the world with its mild taste since the 1920s. It is often served as an antipasto with bread, pickled vegetables, olives and good cheese but of course it is also used in meals such as Spaghetti San Daniele, on pizza, with salad or as an addition to fish or meat. There are no limits! What tastes good is allowed and dishes with San Daniele ham always do! Let the mild delicacy melt in your mouth!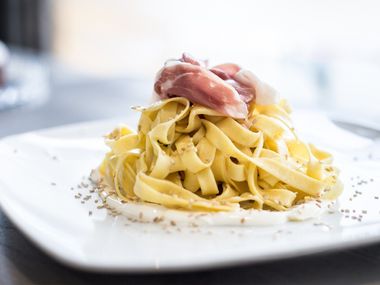 Pork

– in all possible

variations
The pig has an incredibly high standing in the Friuli Venezia Giulia region. In some families it is even common practice to raise a pig at home, which is slaughtered by a travelling butcher. In addition to the already mentioned prosciutto, wonderful pork products are made in Friuli – pancetta, smoked pork belly, musetto, a hearty sausage or salsiccia, a sausage often served with polenta. The Italian black pudding, called sanguinaccio or mule, is also a popular dish in Friuli. Perhaps you have got the impression that the cuisine in Friuli is very hearty and you would be right. The influence of Austrian, Hungarian and Croatian cuisine is noticeable here and makes a Friulian cuisine that is hearty, seasoned with a lot of love, time and a good portion of butter.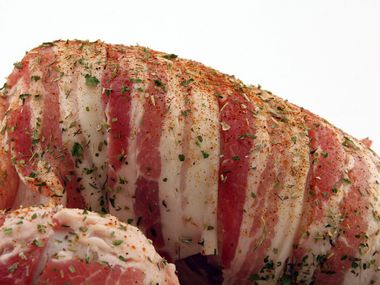 The five most popular
pasta dishes

in

Friulian

cuisine
Pasta is an integral part of Italian cuisine. Pasta is the calling card of the Italians and nobody knowns how to prepare it as well as they do. These are the top 5 pasta dishes in Friuli-Venezia Giulia:
Spaghetti ai frutti di mare: Spaghetti with seafood, garlic and tomatoes. A classic that always hits the spot!
Spaghetti con vongole – Tender clams make this dish a star on every menu!
Ravioli in shrimp sauce – Ravioli filled with shrimp in a shrimp cream sauce. Heavenly!
Fettuccini ai porcini – Wide ribbon noodles with aromatic porcini mushrooms are an absolute highlight among the pasta dishes.
Cjaçons – Pasta for dessert? Yes please! The pockets filled with a mixture of potatoes, ricotta, fruit, raisins and chocolate with impress even those of you who don't have a sweet tooth.
If you asked a Friulian resident which dessert should be on the table, we are 90% sure they will say Gubana. The Gubana is a yeasted pastry filled with nuts, sugar, raisins and pine nuts rolled into a snail shape and baked. Depending on the taste, it can also be refined with grappa. Another popular dessert, and this is where the Austrian influence is clear, is the apple strudel. And of course, you shouldn't miss a really good gelato when you are on holiday in Friuli-Venezia Giulia. Because it tastes great everywhere in Italy!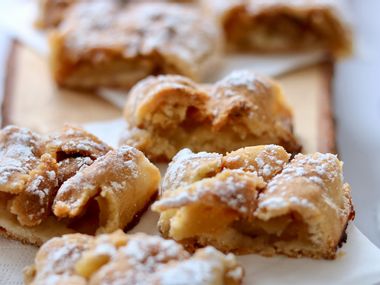 Hopefully we can whet your appetite for the Friulian cuisine and a cycle tour in Friuli-Venezia Giulia! Do you have any questions about our cycle tours in Friuli? Please get in touch!
More
culinary cycle tours