Our new
Eurobike Original Tours 2024
Friuli round trip
Begin this splendid and diverse cycling tour in the capital of Friuli Venezia Giulia, Udine. This region remains relatively undiscovered, allowing you to relish unique highlights all to yourself. Explore the charming 'ham town' of San Daniele, renowned for its prosciutto, or bask in the holiday ambiance of the Italian Adriatic coast.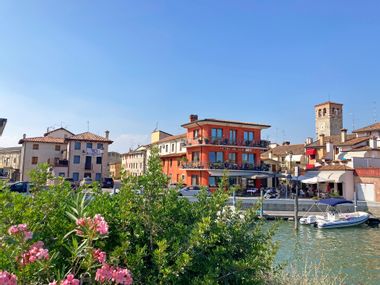 Lech cycle path
In the midst of the Vorarlberg mountain scenery, you'll cycle past impressive peaks and seemingly endless natural landscapes. Crossing into Tyrol, you'll enter Bavaria, where you can explore Augsburg and admire the famous royal castles in Füssen. This journey is filled with incredible highlights waiting for you to discover.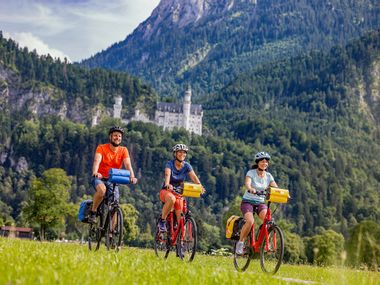 Porto - Lisbon
Allow us to introduce you to a unique cycling tour that combines the Atlantic, tradition, and romance, all in one. On this exceptional cycling tour, you'll explore the two metropolises of Porto and Lisbon. Over the course of 8 days, you'll cycle along the most scenic coastal routes in Portugal and experience some of Europe's most beautiful cities along the way. This promises to be a beautiful and diverse journey awaiting you.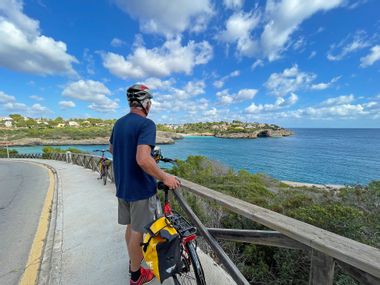 South Tyrol Cycle Tour
This new original tour will enchant you as well. Passing through orchards and vineyards, you'll discover stunning views of the surrounding mountain landscapes and have the opportunity to explore the cities of Brixen, Meran, and Bozen. South Tyrol truly shines on this cycling tour, revealing its sunniest side.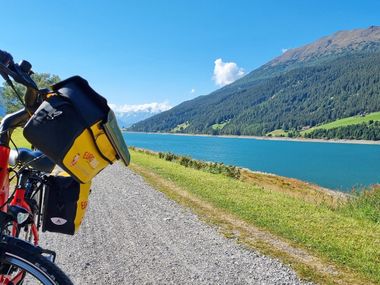 Our new Tours
based in one Hotel 2024
Salzkammergut - based in one hotel
Immerse yourself in the picturesque Salzkammergut region with this tour based in one hotel. Bad Goisern serves as your starting point each day, allowing you to explore the surroundings and savor some local delights along the route. In the evenings, like every other day of your journey, you'll check in to your hotel in Bad Goisern.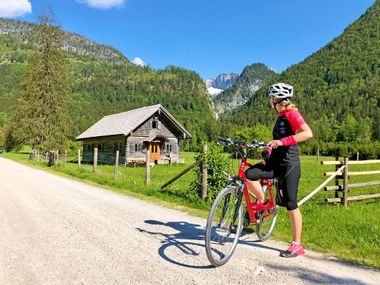 Piedmont - based in one hotel
Experience this hidden gem of Italy up close on a cycling tour. Known as a hidden gem, in Piedmont, you'll encounter authentic moments and breathtaking natural landscapes. Over the course of seven days, you'll cycle approximately 225 kilometers and explore Turin and the Morainic hills.
Palatinate Wine Tour - based in one hotel
As the second-largest wine-producing region in Germany, you can savor especially fine wines on your journey during this based in one hotel tour. The Palatinate (Pfalz) is a visual delight in every season. During your cycling tour, you'll discover the German Wine Route, the Speyer Cathedral, and the medieval Neuleiningen Castle.
Our new
family tours 2024
Isar-Cycle Path for families
This cycle tour is perfect for families. You'll ride along the glacier green Isar River and pass by numerous lakes. Children won't get bored on this cycling journey because, in addition to Lake Starnberg, they can admire the highest mountain in the region: the Zugspitze.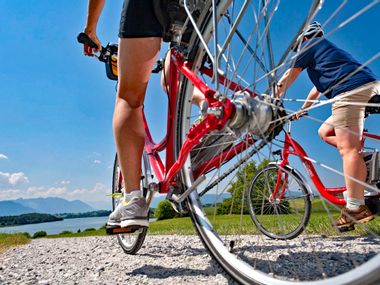 Alpe Adria Cycle Path I for Families
Cycling together is a wonderful experience and on this cycling journey from Salzburg to Villach, you and your family will have wonderful moments. You'll ride through the lovely Salzach valley, then continue into the Gastein valley, and later through the idyllic Drau valley to Villach. Here, you'll find numerous highlights for both young and old.
Ten Lakes for families
Here, cycling adventures await the whole family. Enjoy swimming and culinary delights along the route and discover the Salzkammergut from a cyclist's perspective. You'll ride from Salzburg to Holzöster and continue to the Trumer Lakes, where you can also enjoy a refreshing swim. Fun for all age groups!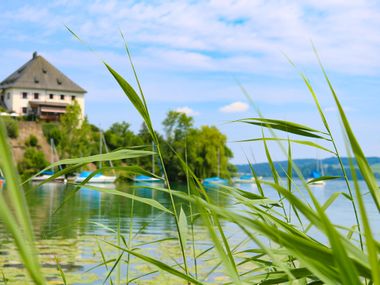 South Tyrol for families
This enchanting cycle tour takes you from Merano to Lake Garda. The comfortable bike paths mostly follow the Adige River, and you'll be accompanied by breathtaking landscapes and the hearty South Tyrolean cuisine.