A cycling holiday

almost like home
It's all in the mix! As beautiful as cycle tours are, packing your bag every day is not for everyone. Although you get to know a new stage every day and discover beautiful landscapes, the daily hotel change can be annoying for some. How nice would it be if you could book a varied cycle tour with just one hotel! Said and done. Eurobike makes it possible! Check into one of our tours based in one hotel and take a wonderful trip in all directions every day. But in the evening you always come back to your hotel! Your well-being is also not neglected on these trips! Our comfortable accommodation will refill your batteries for the next day. Arrive on holiday and feel right at home – that's how it should be!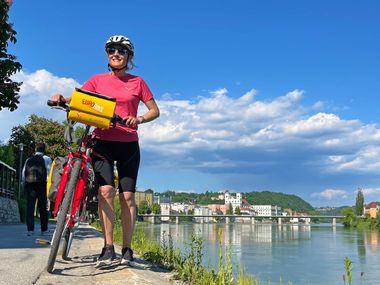 The
advantages of our centre-based tours
No daily bag packing
Packing suitcases is so yesterday! A daily change of quarters is no longer necessary in order to experience an eventful cycling holiday!
More relaxation
At the same time, the recovery factor increases rapidly if you don't have to think about packing everything back into your suitcase and bringing them to reception before 9am.
More flexibility
You can skip a day if you feel like it. A day of rest in the wellness area or by the pool is nice in between, don't you think? Fair-weather cyclists in particular are big fans of these trips.
Comfortable accommodation in a beautiful location
During our centre-based tours, we take great pains to find nice accommodation for our guests. Rooms, restaurants, spa areas – everything should be perfect and therefore style, comfort and facilities should not be lacking.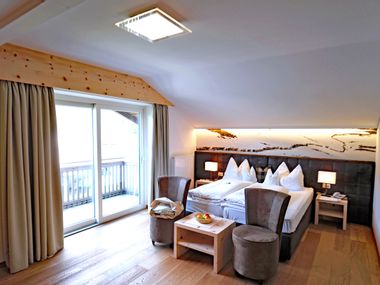 Our
most beautiful

centre-based tours in Europe
Centre-based
tours in Germany
Let's start in Germany, where a lot of particularly beautiful tours sparkle in the bike travel sky. Enjoy the Chiemsee centre-based tour on the Bavarian Sea, explore the German Tuscany during the Palatinate Wine centre-based tour and discover the natural beauties and delightful places around Lake Starnberg. Our tours in Germany stretch from north to south and have something to suit every taste.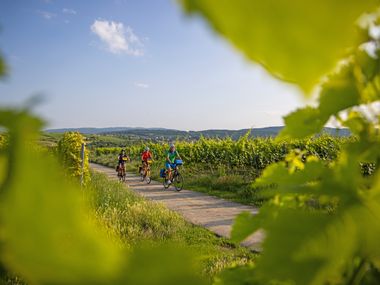 Centre-based tours
in Austria
Austria, the country where cosiness was practically invented, also brings this into its hotel industry! Perfect terrain for our centre-based tours! Whether you choose a tour in Southern Styria, opt for the Salzkammergut centre-based tour or prefer a holiday on sunny Lake Neusiedl – varied cycling trips paired with a relaxing stay in a well-chosen hotel are guaranteed.
But of course there is much more to discover! Take a look and discover your favourite tour in Austria!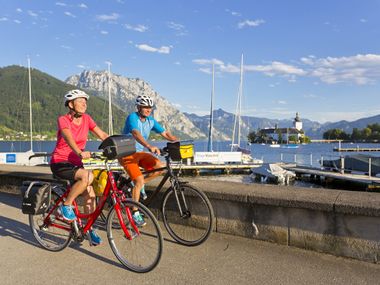 Centre-based tours
in Italy
And in Italy you will also benefit from this system. After all, the Italians know how to live and celebrate sweet idleness like no other nation. And this carefully communicated lifestyle is conveyed by the carefully selected hotels, which serve our guests as a base and accommodation during their cycling trip. How about a tour on Lake Garda for example, where you can choose between three charming hotels? Or would you prefer a centre-based tour in Tuscany starting in the dreamy town of Montecatini Terme, from where you can visit cultural highlights such as Florence? Or do you want to take a holiday away from the crowds of tourists? In this case we would recommend the wonderful Piedmont centre-based tour, where you will spend the night in a villa from the 18th century.
Many more insider trips await you!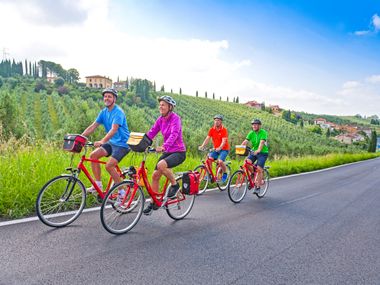 Centre-based tours
in Majorca
Far away from mass tourism and wild parties, you will experience a completely different, idyllic and beautiful Majorca on our star tours. Have you ever been to the East Coast? No, then get in the plane, up on the saddle and get going. Particularly stylish and close to nature you get to know the Mediterranean island on the cycle tour Majorca - based in one hotel with charm in the Hotel Sabina. Or desire to combine our two types of travel " with charm" and centre-based? This is also easily possible on Majorca - Finca tour with charm. Immerse yourself in the unique Majorca flair.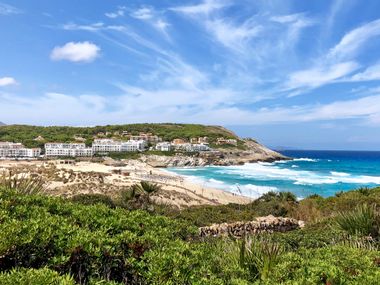 Active holidays with added comfort
Our Eurobike centre-based tours are the ideal choice for those who appreciate a certain amount of routine even on holiday. The hotel staff, the breakfast table, the view from your window of the beautiful landscape…you will certainly not want to miss these. And you gain new impressions every day when you explore the area in all directions on your bike. And since you should feel particularly comfortable on these trips, we select particularly beautiful and comfortable hotels for this purpose, which usually have a great spa area! Get your bike ready for departure and discover our centre-based tour in East Frisia, cycle relaxed in Mallorca and let yourself be pampered in Veneto's Villas and Wine with Charm!
Eurobike – Reisen Sie mit uns zu den Sternen!