All around in a
loop by bike
Would you like to cycle around the island of Majorca, or would you rather circle the Italian Piedmont region? Whether you want to travel to Austria, Germany, Italy or Spain, you will definitely find the right loop tour with us! Islands, lakes and mountains in particular are perfect for a wonderful cycle holiday. Thanks to our wide range of travel options, we currently offer a total of 124 tours throughout Europe. So that there is really something for every taste, you can choose not only the travel destination but also between the four levels of difficulty: easy, medium, challenging and athletic.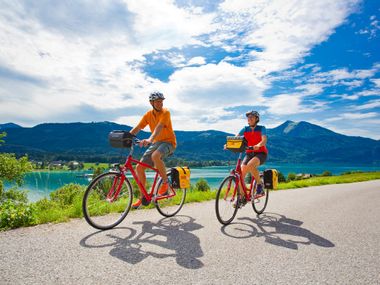 Advantages

of a cycling loop tour
Same start & end point
One of the biggest advantages of a loop tour is that the starting point is automatically the end point. So you don´t need a return transfer and you can leisurely depart again from your place of arrival.
Experience more
On a loop tour you not only get to know a small part of the country or region but cycle all around it completely. You will get a great overview of the destination.
No repetitions
On loop tours you are also guaranteed that you will not cycle on any section of the route twice. So you can look forward to new sceneries, towns and highlights every day.
Cycle along the coasts
Loop tours to islands are very popular. No wonder, because you can experience the entire country along the coast in just a few days.
Where is the best place to cycle around lakes and mountains? Well, naturally, in the Alpine Republic of Austria of course. Crystal-clear lakes, majestic mountains and lush green meadows await you on our cycling holidays in Austria. Nature lovers are in the right place here! And what could be nicer than riding from one beautiful natural setting to the next and circumnavigating them all? Whether it is the popular Ten Lakes Loop Tour, the Tauern Loop Tour or the Carinthian Lakes Loop Tour, the decision is ultimately up to you. And as you can see, you are spoilt for choice.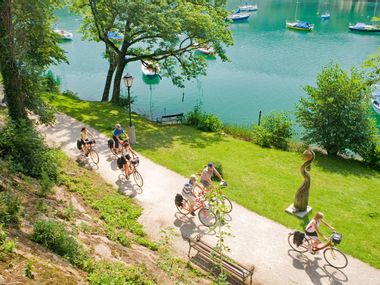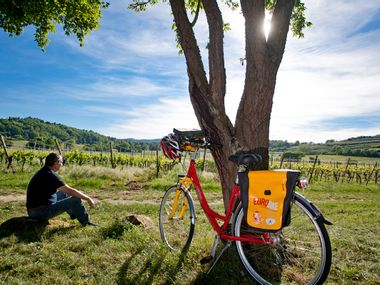 Bienvenue in France! You can also look forward to unique and exciting loop tours in France! Gather wonderful memories in Provence, Alsace or Burgundy and cycle in a loop round the well-known Loire cycle path starting from Tours and discover the famous castles on river Loire. If you are not particularly interested in culture, but if you are a gourmet, then we recommend the wine road in Alsace. Try different types of wine and enjoy the charming scenery.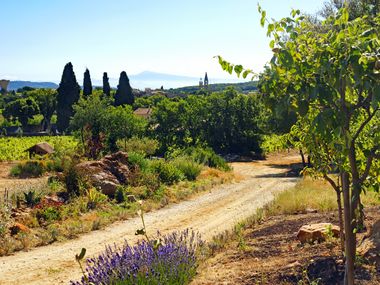 Pizza, Pasta, Vino & Amore – experience the typical Dolce Vita on your cycling holidays in Italy. The world-famous boot on the map attracts numerous tourists to the South with its irresistible charm. Thanks to the beautiful natural scenery, historical sights, delicious cuisine and warm hospitality, cycling enthusiasts also feel very comfortable. Accordingly, you will of course also find impressive loop tours in our program. You can circumnavigate Piedmont, the Veneto or the Dolomites in South Tyrol with Eurobike and get to know and love the beauty of these regions.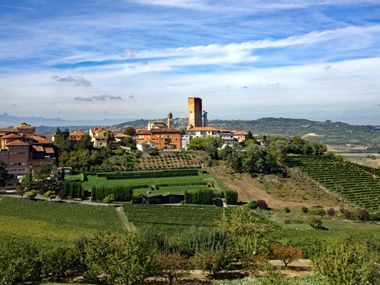 As already mentioned above with the advantages of a loop tour, islands in particular are perfect for this type of holiday. Because usually they are not too big and can be circumnavigated by bike in a few days without any stress. This gives you a great insight into the entire country and you can cycle along the impressive coastline. Always in the background the beautiful blue and endless ocean. Fantastic! Cycling holidays on Majorca or Madeira are amongst the most popular loop tours. There you will experience all this and much more – have fun!