In contrast to our cycling loop tours, you do not cycle in a loop on a distance tour, but from one point to the next. Accordingly, you do not have to return to the starting point, but aim for a completely different goal. Therefore you can look forward to varied, beautiful and unique daily stages. In total, Eurobike already organises more than 180 route tours throughout Europe. Whether it is a short holiday, a family holiday, to Italy or Germany – the offer is huge and very diverse.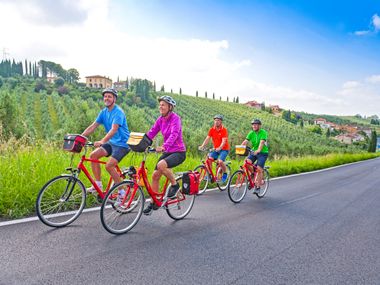 Advantages of a distance tour

by bike
Different start & end point
On a distance tour you cycle from A to B, which means that your destination is not the place of arrival. But do not worry, we will not leave you there, but of course we also offer a return transfer to the desired departure point.
Varied tours
One highlight chases the next. Since you cycle to a new point every day, varied and exciting daily stages await you again and again.
Explore multiple countries and regions
Would you like to explore several countries or regions during one holiday? No problem, our distance tours often lead beyond the borders.
Cycle along the rivers
Many of our route tours lead along the most famous European rivers. Experience unique cycle holidays on the Danube Cycle Path, Moselle Cycle Path or Loire Cycle Path.
Our
Distance Tours in Europe
Distance Tours in Germany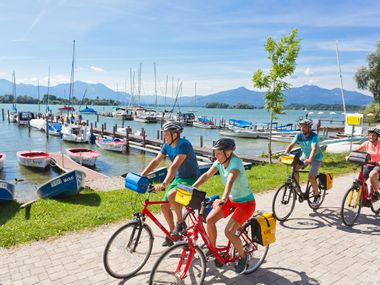 Another pedal push away is beautiful Italy. Close your eyes and visualize yourself for a moment into the Dolce Vita – the delicious Italian cuisine with pizza and pasta, the enchanting vineyards, the romantic cities and the rushing sea. Splendid! On our cycle holidays, you will get to know Bella Italia from a completely different perspective. The cycle tours Pisa – Cinque Terre, Florence – Rome or Turin – Sanremo underline the Italian beauty again. Make your dream come true and soon you cycle through the Italian regions.
Thanks to Eurobike the route tours along the three well-known rivers Loire, Rhone and Rhine become an eventful and exciting adventure. Far away from traffic noise and annoying cars, these cycle paths allow you to focus exclusively on the beautiful and to devote yourself fully to nature and culture. The Loire Castles cycle holiday and the Rhone cycle route from Geneva to Lyon offer such a symbiosis between beautiful landscapes and historical cultural treasures. Hop onto your bike and enjoy the wind in your face and the breathtaking views in France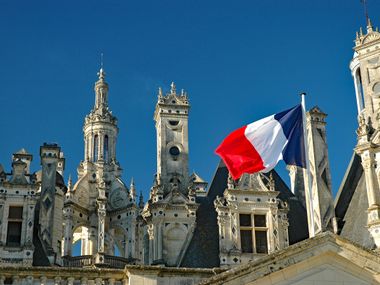 Distance Tours in
Austria
Keep an eye out if you live in Austria. The next dream holiday is right on your doorstep. However, if you are not from Austria, we can only highly recommend our home country. Objectively and impartially speaking, Austria is a real jewel in Europe in terms of scenery. Crystal-clear lakes with drinking water quality, impressive mountain peaks with panoramic views and delightful towns with hospitable locals. These are just a few of many other Austrian advantages, which you will get to know all on our route tours. The Alpe-Adria cycle path from Salzburg to Villach, the Danube cycle path with Charm or the Drau cycle path bring this wonderful diversity to the fore.