Water has firmly captured our hearts. No one can resist its attractive pull. Humans and animals have been living close to water as it means life, fertility, food and…beautiful cycling routes. Germany is fortunate that it is bordered not only by two seas, but also has many beautiful lakes. You would hardly believe how many lakes there are in Germany - you will find it hard to decide which to visit, the selection is so large. We hope you enjoy browsing.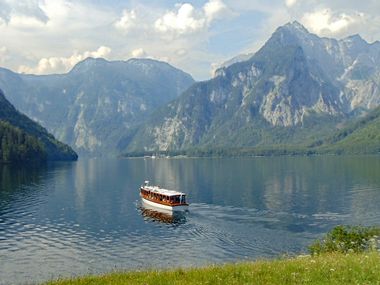 Munich Lakes Tour
Our absolute top-booked tour on the German lakes is the Munich Lake District. Whether over 5, 7, 8, 9 or 10 Days, or in the sporty version - we have the right tour to suit every performance level! Discover the beautiful Munich area by bike.
Munich's Surrounding Lakes
The Ammersee, Lake Starnberg and the Kochelsee are waiting to be explored by you! But it's not only the lakes that make this trip so attractive - the Bavarian cosiness and beautiful Alpine landscape are certainly just as good reasons to book this cycle tour.
Bavarian Lake Tour
What is the difference between the Munich Lake District and the Bavarian Lake District? Just find out! In any case, you will be thrilled by both!
Lake Starnberg based in one hotel
Your cosy hotel for the tour is only a few steps away from Lake Starnberg - the Hotel Seeblick Bernried! Time to relax and wonderful cycling trips await you.
Romantic Road and Bavarian Lakes
The historic city of Augsburg is the starting point and destination for this fantastic cycle tour. On this tour you will find glittering lakes, beautiful landscapes and quaint little towns.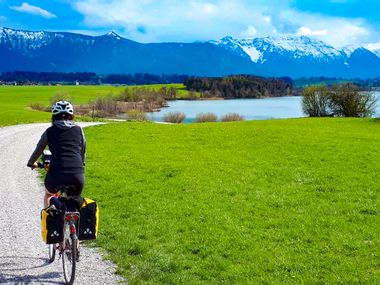 Chiemgau Highlights
What do you need for a successful cycling holiday? A working bike, beautiful hotels, great scenery and sparkling lakes…all this and much more can be found on this cycle tour!
Lake Chiemsee based in one hotel
Two pretty hotels are at your disposal on the Chiemsee tour based in one hotel! You have the choice. Explore the most beautiful places and highlights around the Chiemsee and don't forget to take a dip in the cool water.
Lake Chiemsee – Lake Königssee
Raise the blue and white flag, because soon you will see it for real! From the Bavarian Sea - the Chiemsee - you travel over the spa town of Bad Reichenhall to Lake Königssee, which lives up to its name! A wonderful cycling holiday is inevitable!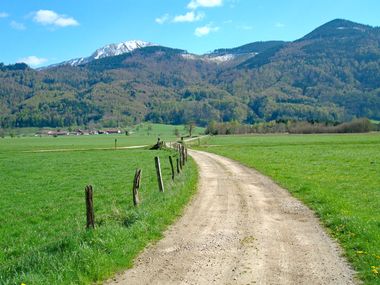 One lake - three countries
The 'Swabian Sea' with its fragrant apple trees will surely captivate you. Experience the highlights of the three-country lake in a week with your bike, either on the Lake Constance cycle path in all variations, the Lake Constance tour based in one hotel or the cycle tour Lake Constance - Lake Königssee. But if none of these sound right for you, take a look at our entire selection of great cycling trips on Lake Constance. By the way, you will also learn everything you need to know about the beautiful Lake Constance region.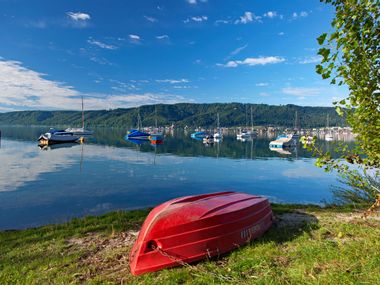 Mecklenburg Lake District
This wonderful cycle tour takes you through the heartland of the Mecklenburg Lake District. You start in Waren/(Müritz) or Klink and cycle through the land of a thousand lakes. You will experience the Müritz National Park, the Strelitz small lakes area and on the upper lakes between Plau and Waren a fascinating water landscape with peaceful forests and small Mecklenburg towns.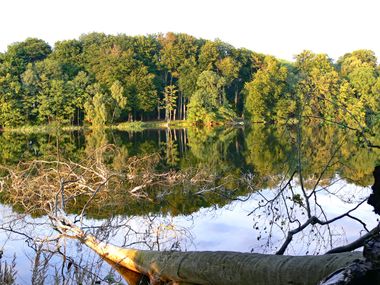 Berlin Lakes
The vibrant capital of Berlin and peaceful nature with sparkling lakes doesn't fit together at all? Then teach yourself a lesson and discover the surroundings of Berlin and Potsdam by bike.
Potsdam based in one hotel
A lot of culture, history, nature, recreation await you wait you on this tour. Excursions to the Wannsee, Berlin and Schwielow lake, a comfortable hotel and beautiful landscape and hopefully enough reasons for you to try this cycle tour for yourself
Useful information

about your holiday on the German lakes
The climate

on the German lakes
In order to sum up the individual climatic zones and weather forecasts of the German lakes, one would need delve deep…very deep. Therefore, forgive us for making it easy for ourselves. In general, it can be said that in the German climate everything is possible. Therefore, get a reliable weather forecast and be prepared for bad weather, then nothing stands in the way of a wonderful cycle tour.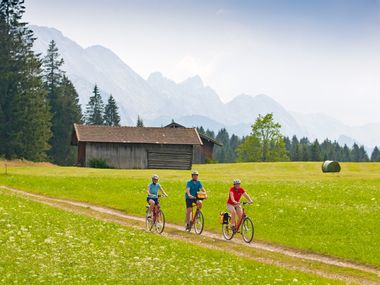 Of course it's not possible to write a general description of the food of the German lakes. Often Bavarian food is different even in the next village. But we can tell you about the different delicacies you should try at different lakes. Maybe you'll find a tip or two?
Munich Lakes: Surprise! Of course you didn't expect this - Munich white sausage! But you can also expect roast pork with potato dumplings, 'Schweinshax'n' (pork leg) or 'Damfnudeln' (steamed dumpling) with vanilla sauce - you should try it all in Munich.
Bavarian Lakes: Of course, the Bavarian cuisine is almost identical to that in Munich. Obazda (cheese spread), 'Fleischpflanzerl' (meatballs) or a sour 'Lüngerl' (stew made from calf lung)? In Bavaria you can eat till you hurt.
Chiemsee: Be sure to try the fresh grilled fish from the Chiemsee, or the delicious marzipan from Fraueninsel - a treat.
Lake Constance: A St Gallen sausage from Switzerland, 'Käsknöpfle' (egg pasta with cheese and fried onions) from the Allgäu or sweet apple strudel from Austria? On Lake Constance you can sample delicacies from three countries.
Mecklenburg Lake District: Of course fish is important in the Mecklenburg Lake District! Great dishes such as braised zander or pike in parsley sauce will delight fish lovers. But the carnivores also get their money's worth with dishes such as stuffed pork loin or Mecklenburg rib roast.
Berlin Lakes: Berlin is a big melting pot of different cultures and nations. And that's reflected in the cuisine. To be considered a Berlin speciality, a dish doesn't necessarily need to have been created there. But if you want to try 'traditional' food try a pork chop with sauerkraut, a Holstein style Schnitzel or a famous Currywurst.
…that there are more than 15,000 lakes in Germany?
…that Lake Constance is the largest, the deepest and most water-rich German lake in terms of area? It belongs only in part to Germany. The largest lake lying totally in Germany is the Müritz, followed by the Chiemsee.
…that the Waginger See is one of the warmest bathing lakes in Germany?
…that the water at the bottom of the lake is 4 degrees year round?
More cycling destinations

in Germany